What is "typical Berlin food"? Currywurst is probably the first word that comes to mind–yes the yummy sauce-covered wurst is the most famous–but Berlin has a lot more to offer than that. From crispy, melt-in-your-mouth Schnitzels and Goulash to more unusual offerings like Blutwurst and Mett (raw minced pork which is spread on Brötchen and garnished with raw onions), there are countless options. But some of the most "typical" Berlin food isn't even German, or even European for that matter. The large immigrant population in Berlin has given rise to a vast array of delicious ethnic foods, particularly from Northern Africa, the Middle-East and Eurasia (some dishes like the Döner Kebab even originated here in Berlin). But perhaps the newest trend that is changing the face of Berlin food is the growing number of vegan and vegetarian eateries (many collectively owned), a result of the green movement becoming increasingly in popularity within Berlin's liberal sphere.
But with so many options, how can you possibly choose? The tourist guidebooks will inevitably send you straight to an over-priced sit down restaurant or one of Berlin's most popular imbisses like Curry 36 or Mustafa's (where an inevitably long queue awaits you). Take our advice and check out our list of some of Berlin's best, lesser-known local joints. Whether you are looking to stuff your face or just a little something to nibble on–from vegan tapas to lecker kaftka, we've got a list to fulfill all of your foodie desires.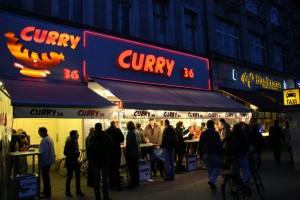 Emma Pea Vegetarian Food
Snugged in between Cassiopeia and the alternative concert venue, Badehaus, Emma Pea's is a hidden gem for veg-heads. The tiny graffiti covered cafe offers a daily changing menu of both vegetarian and vegan options, many with an ethnic twist. The perfect place for a pit stop before or after a night out partying in RAW, swing by and pick up a burrito or Malaysian curry to go or sit down and nibble on a plate of vegan tapas by the fireplace.
Schnitzelei
Tired of the same old Spanish tapas? Why not mix it up and try the German variety? Schnitzelei in Charlottenburg has a decadent selection of all kinds of German cuisine in sample portions–everything from fried red sausage with apple mousse to veal meatballs in creamy caper sauce and of course, the crowd favorite homemade Wiener schnitzel. It is a tad on the pricier side but includes a complimentary beer on arrival so hey, who can complain.
Gemüse Kebab Hermannstrasse
There's only one name that comes to mind when one hears Gemüse kebab, Mustafa's. But I am here to tell you that there is an alternative that is cheaper and far easier to come by (no hour long waits here!)…but most shockingly, it tastes even better. Across the street from the monstrous Kaiser's shopping complex on the south side of the Hermannstrasse S Bahn station is a Gemüse kebab imbiss which has been making quite a stir among Neuköln's ex-pat population. The dish is prepared essentially the same way–chicken slow-roasted "doner style" on a stick with roasted veggies (carrots, eggplant, potatoes, zucchini, peppers, onions) with fresh salad and crumbled feta. However, at this little neighborhood joint the selection of sauces and seasonings is far more varied–try the curry sauce or yogurt with herbs for a really unique flavour combination.
Gel Gör
There's only one word you need to know at Gel Gör, Köfte. For those who aren't familiar with the dish it is a roasted Turkish meatball served on a fresh baked baguette, and Gel Gör has undoubtedly the best around. The family-run Turkish business has a huge menu of different sandwiches, although the undoubtable favorite is the Köfte, they serve theirs with springy greens and fresh tomatoes with a zesty citrusy sauce and fresh mint. The tiny restaurant is open 24 hours so you can grab a bite whenever the craving hits–their lentil soup is also a particularly yummy option on a cold winter night.
Rundstück Warm
There are many legends surrounding the origin of the Hamburger, but perhaps my favorite tall-tale is that of the Rundstück Warm. Rumor has it the rundstück warm (a small brötchen sandwich originating in Northern Germany) was brought to the World Fair and was an instant hit. However, the name was too confusing to pronounce for the English-speaking crowd so it was dubbed the "Hamburger" since the guys who brought the tasty treat were from Hamburg. Today, the rundstück warm is a rare sight on any menu–any menu except the one at the tiny Neuköln international restaurant devoted to the dish, Rundstück Warm. The small pork sandwich is truly decadent–slow-roasted and thick-sliced with a crispy outer crust and covered in plum gravy, the chef at RW serves it up daily alongside homemade fries and a Spreewald Gürken. Other menu options include an array of artisan burgers (everything from goat cheese to gorgonzola and pear) plus a couple of surprisingly good burritos prepared the authentic way by a chef from Guatemala.
Sahara
Few outsiders are familiar with Sudanese food, or really the Sudan in general (there is a map of the country on the wall just in case you weren't sure where it was) but this tiny Neuköln imbiss is bound to change that, the food is just that damn good. At first glance, the menu seems similar to other falafel places and the like–halloumi, tofu, chicken, magali, etc–however the flavor is vastly different from its middle-eastern counterparts. Each dish is covered in tangy peanut sauce and aubergine past giving it a mild, slightly sweet flavor that is truly addicting. And with sandwiches starting at 2.50, you would be hard-pressed to find a more günstig meal. The company has also expanded opening another location just a few streets down from the original location on the corner of Weserstrasse and Reuterstrasse which means hopefully the seating in the tiny imbiss will no longer be at such a premium.
Blutwurstmanufaktur
If you are anything like me, then the thought of eating a jellified mass of dried pigs blood stuffed into an intestine doesn't sound too appetizing. But if there is any place that could possibly make you a believer in one of Germany's most bizarre dishes, it is the Blutwurstmanufaktur at Karl-Marx-Platz in Neukoelln. The tiny German deli is recognizable by a glowing neon red sign stating simply "Fleischerei." However, don't let the benign exterior fool you, this local business has been around for more than 100 years and is known throughout Europe for its award-winning blood pudding–it is so good in fact that the shop supplies many of the cities finest restaurants and is even served to the Federal President at Bellevue Palace. But if you are still not convinced and blood sausage just isn't your thing, they also have a wide selection of other smoked and cured meats plus sauerkraut and homemade mustard.