That dreaded Berlin winter is sadly just around the corner so we highly recommend you take advantage of the remaining mild to warm weather for the year and kick it at some of events we have below. The summer is not over people, there is still plenty of time to dance!
Fuck Parade 2015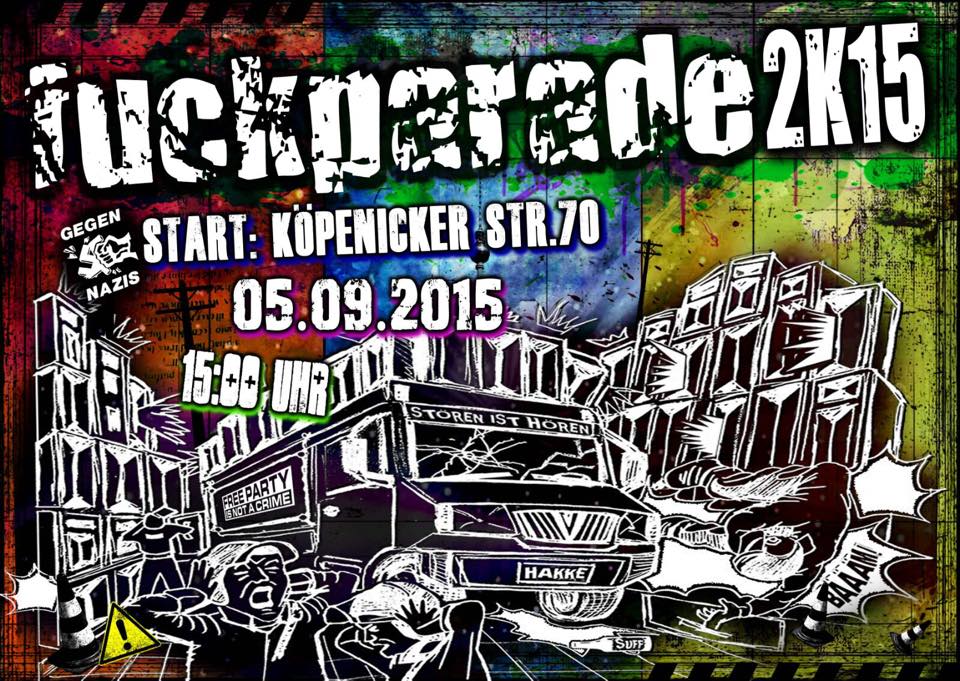 https://www.facebook.com/events/479077255602234/
You have most likely heard of Berlin's famous Love Parade, but did you know Berlin also plays host to a harder, more penetrating and dirtier festival known as Fuck Parade? If you like your beats hard and fast, join in the parade that winds its way around Berlin this coming Saturday the 5th of September.
Alaniz Exhibition: "La calle es un la espejo"
https://www.facebook.com/events/398706336995512/
One of our favourite Berlin based street artists and occasional Alternative Berlin street art tour guide is the incredibly gifted Argentinian artist Alaniz. This month Berlin gallery Open Walls will play host to Alaniz's first solo exhibition in the German capital. 'La calle es un la espejo' or 'The street is a mirror' will see the artist venture away from his roller bombing style that can be found on many walls around Berlin, and will feature a collection of oil painted portraits on canvas. Check it out from September 10 – 26.
Lollapalooza Berlin
https://www.facebook.com/events/367738326723409/
In recent years the world famous Lollapalooza music festival has spread its wings and landing in various locations around the world. This year, and for the very first time, Lollapalooza lands in Berlin bringing with it an array of local German and international big name artists. Check it out September 12 + 13.
Badehaus 4th Anniversary Party
https://www.facebook.com/events/826506727464598/
If you are in Berlin and wanting to see some live bands we would commonly point you in the direction of Badehaus. Almost every night of the week you can find great local and international guests playing a variety styles of music. Head on over this month between September 11 + 13 and help them celebrate their fourth anniversary.
Monterey 2nd Anniversary Party: Coronado Tap Take Over
https://www.facebook.com/events/629281707174660/
If you're life revolves around finding the best craft beer around, Monterey bar in Prenzlauer Berg should be your number one bar stop. Head over this month to help them celebrate their second year in business with their party that will feature a Coronado tap take over.