It's really getting harder and harder of us to choose just five events to recommend to you every month. We're always spoilt for choice but in the summer months Berlin really out does itself on fun stuff to do and this July is packed! So here are just five of our favourites, but keep an eye on our Facebook page as we regularly share what's on from week to week too.
1. Berlin Graphic Days – Urban Spree – July 1st – 3rd
Over 100 graphic artists will come together at Urban Spree for a huge live painting event that will end in a night market and party. This is a great event to see artists in action. There will be live painting, screen-printing and tape art, with DJ's. This festival is a great chance to see the creative process from start to finish, buy some unique art and hang out in a relaxed atmosphere with artists from all over the world!
https://www.facebook.com/berlingraphicdays/
2. Gelato Festival Berlino – Arena Berlin – July 7th -10th
You scream, we scream, we all scream for ice cream! This July Berlin has it's own gelato festival so you have the chance to taste extraordinary gelato flavors, some created only for this event. Eleven of the best German gelato makers will produce their ice cream live at the event and offer you a taste. The main ingredients of the Gelato Festival include tasting (om nom nom), exploring the manufacturing of gelato, as well as interactive workshops. If gelato is your jam, this is a must. One more time, gelato!
https://www.facebook.com/events/1029040800499251/

3. Baum Haus Big Day Out Comedy Open Air Festival- Insel Berlin, Treptow – July 16th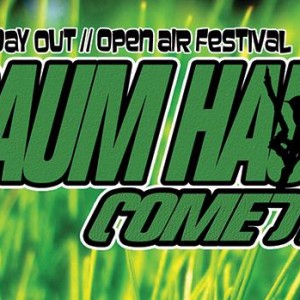 Who doesn't love to laugh? The Baum Haus Big Day Out offers the best of Berlin English-language comedy alongside some amazing international guest comedians all performing in English on an island in the middle of Treptower Park. You can expect over twenty different comedy acts so someone is sure to have you in stitches. Living up to it's name it really is a BIG day out. There is a selection of street Food & BBQ served all day. Plus a range of freak show, circus acts, cabaret, burlesque, full open air bar, boat / canoe hire, kids play area and much much more!
Entertainment & food from 4pm. Main Show from 7pm!
https://www.facebook.com/events/516392551850270/

4. Art & Craft – Black Market Collective – July 24th
Yeah ok, we might be a little bias on this one as it's our event, but hear us out. July 22nd see's the start if what will be another HUGE Berlin Beer Week, so we thought we'd get involved with some local brew heroes and artists to do something super cool to mark the occasion. We're working with Pirate Brew Berlin and Two Fellas Brewery to bring you a street art workshop, with a difference.

We are giving you the chance to take home one exclusive bottle of especially brewed craft beer with your label on it! We will take participants through a step-by-step introduction on how to make their own street artwork, using stencil art and spray paint cans. During this event, participants will get the chance to try the new beer produced by the two breweries and use the expert tuition they receive in making a great piece of street art work.
No experience necessary, just a willingness to have some fun and see what you can do. Limited places are available so book your place today!
https://www.facebook.com/events/1556778707957134/
5. Dirty Dancing Party – Yaam – July 30th
This party at Yaam wants to take you back to a time of big hair, glitter and leggings for a beach dance party with plenty of confetti. If you want to get wild to the tunes of the 80's and 90's this party is for you. Expect hits, trash and rock from two of the most questionable decades music and fashion have ever seen. Wear your best throw back outfit and get a special price at the door, then dance the night away because no one puts you in the corner!
https://www.facebook.com/events/169131006817007/