WHOH! We've had a rollercoaster couple of weeks here in the hauptstadt. With so much rain there was a dude filmed SWIMMING in the streets. Obviously we were still taking adventurous guests out exploring, even in the monsoon, but it may take us some time to dry out. Germany voted in favour of same-sex marriage (about time!) so the rainbow banners are flying high and we're looking forward to hurling ourselves into another fun Berlin summer. The downpours haven't dampened our spirits and we're stoked to bring you our pick of this month's events.
1. Plateau Repas – Hinter dem Gießhaus 2 – July 6th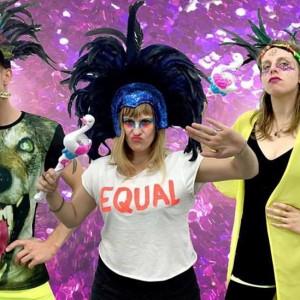 SWEAT OR DIE! Seeing this Berlin based power pop trio live is an experience and a workout. Plateau Repas are a euro-trash trio who mix-up music from all backgrounds, they have an acute obsession with old-school hip-hop and 90s dance music. This band love to laugh but they aren't using comedy to cover for a lack of talent. Their live shows are energetic sugar highs mixed with mad musical mash ups and perfected performance art. Wear shoes you can dance in because they will make you WERK.
https://www.facebook.com/events/1833008127017018
2. Gegen Vision – Kitkat Club – Köpenicker Str. 76 – July 7th
It's Gegen time again! Not for the faint of heart this sex-positive party is always an experience. Fetish parties aren't everyone's cup of tea but they are a big part of the Berlin scene. Creating environments where people feel free, and safe, to express themselves is part of why Berlin's nightlife is world-renowned. The Gegen DJ and Art curation is world class making this party a little something different every time. On the 7th, the theme is "vision" and you can bet the team will be taking the concept to your limits.
https://www.facebook.com/events/1791864467810704
3. Psycho Keller – Café-Commune Berlin – Reichenberger Str. 157 – July 15th
We're not going to lie, the name of this night in all its genius put it on the list. It's a clever play on the title of the Talking Heads track "Psycho Killer" and the German word for cellar. Plus, they used a picture of Nick Cave for the promotion. Berlin LOVES it's post punk and electro and this event should offer fans a laid back but eclectic new wave, post punk electro party. Release the bats!
https://www.facebook.com/events/123618778242042
4. Yo! Sissy Music Festival – Festsaal Kreuzberg – Am Flutgraben 2 – July 28th-29th
YO! SISSY is Berlin's international queer music festival taking place every summer in July. YO! SISSY focuses on bridging the gap between burgeoning local artists with established international acts, while showcasing female and trans* identified talent. YO! SISSY is an explosion of color, drag, and everything we love about Berlin! This year will also feature a marketplace with tons of local queer businesses as well as workshops and panel discussions with many of the artists. Sissy that walk!
https://www.facebook.com/events/385823088468457
5. The Dead Fish Art Project – Für Immer Tattoo – Revalerstrasse 11 – July 29th
Over 50 artists have all been given the same watercolor paper sheet, with the shape of a fish, what they fill that fish with, is entirely up to them so this will be a whole shoal of seriously interesting art. You can bet a huge team of tattoo artists will make this an eventful vernissage too, it will be the place to be and we're not codding, we trout you'll want to miss it. Did you know there is a fishpuns.com. Well you do now!
https://www.facebook.com/events/1921176801493803/
That wraps up our tips for this month but don't forget, if you take a tour with us, ask our guides what they get up to. Tour guides are notoriously interesting people, it's a prerequisite for working with us! They're also very friendly and happy to chat with you about the city, and will no doubt have loads of suggestions on things to do. Also keep an eye on us on Facebook and Twitter, we're always posting about cool stuff to do, plus you can see the video of the guy doing breaststroke under a bridge!