It's official. Autumn is upon us. Our Instagram today (@alternativeberlintours) was full of HELLO OCTOBER posts. So our thoughts have now turned to falling leaves, pumpkins and trying not to freeze to death as we brace for another Berlin winter. We know our intrepid guests enjoy taking tours all year around though, and of course Berlin is always a thriving and vibrant place to be regardless of the season. This month for example is MENTAL for live music. Sigur Rós, The Jesus And Mary Chain, Lady Gaga, Nice Cave and The Bad Seeds, Mogwai, The National, Dead Kennedys and Weezer are all playing sold out shows here! But what else is there to do? Here's our pick of what's on in Berlin this October.
1. Let's Talk About Sex and Drugs – Baumhaus Bar – October 5th
Now we have your attention! Have you ever wanted to discuss topics like sexual health practices, chemsex, HIV, PrEP, or just sex and drug use in general but were unsure where to begin or didn't feel comfortable asking? This evening provides an open discourse in an intimate environment. It's not a lecture or a classroom! The event is an open format salon that will feature a rotating panel of writers, medical experts, activists, performance artists, drag queens, and community members that are engaged in promoting sexual health and openly talking about critical topics that can be uncomfortable or taboo for some people to address. This forum is based on a successful event of the same format from London in connection with 56 Dean Street, a world-renowned infections diseases clinic revolutionizing the way we treat sexual health in our daily lives. The audience is encouraged to engage and participate by sharing their experience and concerns on these matters while sharing a few drinks with friends.
https://www.facebook.com/events/1894258277458514
2. 10.GAT-Ausstellung der "tätowierbaren Künste" & Party – Festsaal Kreuzberg – October 7th
The opening night of this once yearly tattoo art exhibition is always quite the party. Now in it's 10th year the GAT exhibition features the work of tattoo artists all working around a chosen theme. This year the theme is "borders". There will be live music and DJ's throughout the night and we know from personal experience that tattooers in this town know how to rock n roll, so expect a wild night.
https://www.facebook.com/events/1090289821106938
3. Halloween 2017 – The Mystical Island – Kulturhaus Insel Berlin- October 27th
Berlin doesn't really go all in for Halloween, but there are some spooky events for those who want a scream. This party takes place on an island in the Spree and promises a suitably freaky environment to kick off Halloween weekend. With light installations and a "mystic" environment complete with horror themed decoration. You'll dance the night away to DJ's playing an eclectic mix of music over two floors of an old house with a roof terrace, which is situated on the island. Tickets are limited (it's a small island).
https://www.facebook.com/events/2031243083773328
4. Seek Nothing EP Release – La Casa Hellersdorf – October 28th
Seek Nothing celebrate the release of their latest EP, with Bomb Out and Head To Head. There is a DIY music scene here in Berlin but finding out about shows unless you're in the know can be difficult. If you're into hardcore, this night will be a great chance to see three rad live bands from the Berlin scene.
https://www.facebook.com/events/1761195907515538/
5. Electronic Sideshow Halloween Special– Bassy Club – October 31st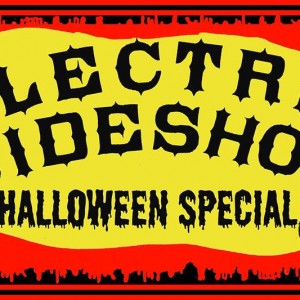 Promising a bone rattling line up of burlesque and sideshow performances with live music and DJ's, this will be a spooktacular event for All Hallow's Eve. There is even a costume contest with prizes. As we mentioned, Berlin doesn't really go all in when it comes to Halloween so if you're looking for a night full of thrill's and spill's where gore, go go gals and zombies all come together to wake the dead look no further than this special edition of the electric sideshow!
https://www.facebook.com/events/1935659373376985/
Well folks, we hope that whatever you choose to do to indulge the ghoul in you over Halloween you stay safe and have fun! Remember to ask our guides for their tips of what to get up to during your stay in the city too. And keep an eye on our Facebook page for info on other events. MWA HA HA HA HA HA HA.