We had some amazing golden autumn days but November is here and it's definitely time to get cosy and warm in Berlin. Here our Top 5 tips for November:
BAZAAR CONVENTION BELIN 2022
Get inspired and maybe pick up some early Christmas presents at Basaar CONVENTION. After a break in 2020 and 2021, the convention returns once again this year between the 2nd and 6th of November at Messegelände Funkturm. Manufacturers and traders from 55 countries present their crafts, designs and natural products. It ́s a marketplace of cultural exchange and all fairly produced for the planet and people.
2102505-1612022-bazaar-berlin.html
STREET ART GALLERIES
We do run our tours all year around and have great ways of keeping warm with tea and Glühwein stops but there are a lots of GALLERIES in Berlin and winter is a great time to check them out. Here are our must sees:
Urban Nation – World renowned street art and graffiti museum (free entry): www.urban-nation.com 
C/O Gallery – If photography is more your thing check out the current exhibition examining queerness in photography: https://co-berlin.org/en
Let it Bleed – Independently minded art print shop in Kreuzberg run by artists and dedicated to showcasing primarily locally based artists: https://www.letitbleedberlin.com
COFFEE & FOOD 
Grab a book or some friends or go alone without distraction as for sure you will get into a conversation with other guests at Wahrhaft Nahrhaft in Friedrichshain. One of the most beautiful cafe´s in Friedrichshain where you fell like you're back in the 2000s with old second hand furniture and the most comfy "Tea at grandma`s " athmosphere. They have great handmade down to earth drinks, sweets, soups, sandwiches and amazing cakes and quiches. All of course with a vegan friendly selection as well and super fair prices. Here the website to get inspired: :http://relaunch.wahrhaftnahrhaft.de/?page_id=31
MOVIES
Winter is always the time for MOVIES. Instead of binge watching series we recommend checking out the various independent, alternative and art house cinemas in the city. Here is a little selection of where we guides hang out after the tours:
Tilsiter Lichtspiele – one of the oldest cinemas opened in 1910 in Friedrichshain https://tilsiter-lichtspiele.de
Sputnik am Südstern – with carefully selected films in a non-conformist atmosphere https://www.sputnik-kino.com/program/featured
b-ware Laden Kino – with the cosiest sofas https://ladenkino.de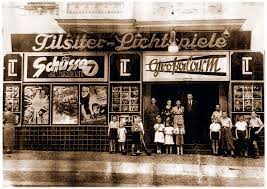 SAUNA
Sweat baby sweat! There are loads of SAUNAS in Berlin to heat up a bit and you definitely have to check out the firetruck sauna in FIT freie internationale Tank stelle. It ́s a great little hidden old petrol station in Prenzlauer Berg with events and great drinks in summer and the FIREFIT sauna in winter. A creation of artist Dida Zende, the sauna was handcrafted in 2012 and is now open again Wednesday to Sunday 6-10PM. Here is the website with all details and fotos http://www.f-i-t.org/firefit
If you have a bit more space in your courtyard or plan to go camping, you could also rent a barrel sauna here and they deliver it to wherever you want to sweat https://www.mobilesaunaberlin.de
If you want to jump into a cold lake after your sauna session don't miss the opportunity to give the Strandsauna Plötzensee at least one visit this winter. Check out their website here https://swedding.de