Rich alternative history meets more modern trendy cafes and restaurants in this former working-class district of East-Berlin
Situated in Former East-Berlin and straddling the river Spree and Kreuzberg on its Southern border the district was incorporated into Greater Berlin in 1920 and settled predominantly by Berlin's growing urban working class. Following the fall of the Berlin Wall in 1989, Friedrichshain underwent a cultural upheaval through the '90s as squatters and a younger creative class began to flock to areas around Rigaerstraße and Mainzerstraße lured by the vacancies and low rents of the district. Despite the recent, and rather obvious, gentrification of the suburb, Friedrichshain remains a district well worth visiting. Known now for its great food, bars and cafés dotted around Simon-Dach-Straße and Boxhagener Platz, you can still spot plenty of punks strolling by trendy cafes and other remnants of Friedrichshain's alternative past.
Alternative Berlin's Recommendations:
Yaam Beach Bar:
An der Schillingbrücke 3, 10243 Berlin
Beer, sun, sand, and fun. This alternative beach bar is a great spot to slow down and relax.
One of our favourite alternative spots to relax in Berlin. The 'Young African Art Market' is situated at one end of the East Side Gallery and near the borders of Friedrichshain, Kreuzberg, and Mitte and sits on the banks of the river Spree. Founded originally in 1994 as a youth cultural space, Yaam seeks to attract both children and adults from varying nationalities. Known as a great spot to enjoy a drink in the sun during summer months, Yaam also plays host to a variety of cultural events, concerts, art markets and family days.
Due to the gentrification taking place in Berlin, Yaam is currently in its fourth location and due to developments in the area, its current tenancy is also threatened. As a space well worth fighting for, we encourage you to check out their events calendar, concerts or just enjoy a drink in the sun with friends!
(https://www.yaam.de/)
RAW-Gelände:
Revaler Str. 99, 10245 Berlin
This alternative heaven, with its walls adorned with graffiti and street art murals, offers plenty whether you're visiting during the day or partying through till the morning.
One of the largest hotbeds of alternative sub-cultures left within the center of Berlin. The Reichsbahnausbesserungswerk (RAW) was originally founded as the Royal Prussian Railway Workshop II in 1867 and today acts as a self-governing socio-cultural center. Following the unification of Germany in 1991, the train yard was decommissioned by 1995, whereupon the creative inhabitants of Friedrichshain at the time established a bastion of arts and culture amongst the former derelict warehouses. Emblematic of the times, disputes between artists, owners, and developers have left the future of RAW murky and ripe for speculation with fears of luxury apartments and office towers coming to take over the space. Despite the future remaining unclear, the present is not and RAW remains one of our must-sees in Berlin. Although known for its nightlife, especially over the weekend, the space is still well worth a daytime visit, with weekly flea markets on Sundays and its walls adorned in street art and graffiti. If this tickles your fancy, you'd enjoy one of our graffiti and street art or workshop tours led by local artists. RAW is amongst our favourite places to visit!
For those searching for a late-night drink and dancefloor, Cassiopeia, Badehaus and Bar Zum Schmutzigen Hobby are all venues we highly recommend. The former is well worth a visit in daylight for its beer garden or outdoor cinema during summer months. Additionally, Urban Spree, an event and gallery space as well as a beer garden, is well worth a visit to RAW in of itself offering concerts and both temporary and permanent exhibitions.
And if that's not enough, there's even Berlin's biggest indoor skate park and a rock-climbing wall too!
(https://cassiopeia-berlin.de/)
(https://www.badehaus-berlin.com/)
(https://www.urbanspree.com/)
Interested in finding out more about Street Art? Take either our Street Art and Graffiti Tour or workshop and our local guides will take you through the streets to show you the best Berlin has to offer.
Volkspark Friedrichshain:
An outer city experience in the heart of Berlin. Get lost wandering in the woods or even catch a movie amongst the trees.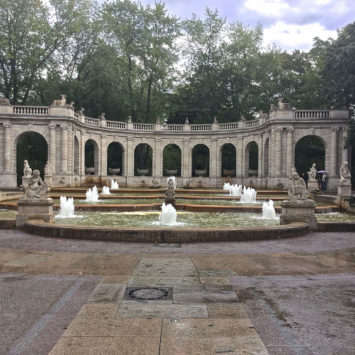 Berlin is known for its green spaces and Volkspark Friedrichshain is among the most popular. Dating back to 1840, it was opened in honour of the centenary of Friedrich the Great and is today Berlin's oldest park. With its size and abundance of tall trees, one can easily forget they're in the middle of an urban metropolis. Toward the center of the park are two large hills, the highest at 78 meters tall, which were man-made from debris following the Second World War during the reconstruction of Berlin. Well worth finding during your visit is the famous Märchenbrunnen, an impressive fountain made of 106 stone sculptures representing characters from many traditional German fairy tales. Additionally, you can also find the Japanese Pavilion which includes a Peace Bell, gifted to East Germany by Japan to promote unity against nuclear war.
Another great activity, which requires a little prior planning, is a visit to the park's outdoor cinema, or freiluftkino, which is open during summer between May and September and screens a mix of movies in both English and German. Interested in catching a film whilst in Berlin? Look for 'OmU' on the program which translates to 'Original with Subtitles'. With plenty on offer we highly recommend making a visit during your stay in Berlin, especially during the summer months, enjoy a stroll, or even take some beers to enjoy in the sun as the locals do!
(http://www.freiluftkino-berlin.de )
East Side Gallery
Admire the famous murals along the Berlin Wall and reflect on Berlin's rather recent divided history.
The longest remnant of the Berlin Wall runs 1,316meters along the river Spree between the borders of Friedrichshain and Kreuzberg. Although now one of Berlin's biggest tourist attractions it's still well worth a visit. Entirely open air, it sits just on the side of the street and is an un-ticketed attraction. The gallery is decorated in street art murals painted in 1990 on the walls Eastern side by both local and international artists. Due to vandalism and erosion, many of the murals were restored in 2009, in many cases by the original artists themselves.
The gallery has also been the site of much controversy, with a 45-meter section being cleared to allow access from O2 World to the Spree in 2006, and a further 23-meter section being cleared to allow space for luxury apartments. The artists whose work appeared on the sections removed refused to restore them and defended their copyright over the murals. The gallery can be visited round the clock. During the daytime, you'll often struggle with tourists posing by the murals for photographs, but the gallery is well lit and quieter during the mornings and evenings.
Shakespeare and Sons
Warschauer Str. 74, 10243 Berlin
Books and bagels. Cosy English Language bookshop offering a great selection of literature as well as great coffee, sitting space and snacks.
Humana
Frankfurter Tor 3, 10243 Berlin
One of Berlin's largest second-hand clothing stores. Spanning four floors and catering to many different trends. It also includes a specific vintage clothing sections.
1990 Vegan Living
Krossener Str. 19, 10245 Berlin
Since the year following the fall of the Berlin wall, this restaurant has been serving up Berlin's finest Vietnamese vegan cuisine. Reservations recommended.
Paule's Metal Eck
Krossener Str. 15, 10245 Berlin
Open every day from 5pm till late, this Metal bar is a great stop for a few drinks. Friendly atmosphere, good music, and a billiards table.
The Castle Berlin Friedrichshain
Frankfurter Tor 7, 10243 Berlin
Berlin's largest selection of craft beer with offered on tap and many more from the bottle. Non-smoking, well priced and laid back atmosphere.