Charming West-Berlin district home to a long-lasting queer community.
Predominantly residential, Schöneberg is a joy to stroll around with its leafy sidewalks and sweeping 19th-century townhouses. Home to one of Europe's largest queer communities which flourished through the 1920s until the rise of the Nazi party through the '30s, its influence is still abundant today. The district was home to famous international figures such as Christopher Isherwood, author of Goodbye to Berlin (Later adapted into the musical and film Cabaret), and English singer-songwriter David Bowie. Whilst the former red-light district is less evident with the gentrification of the district, the famous department store KaDeWe and shopping down Ku'Damm is as popular as ever.
What to do in Schöneberg:
Urban Nation
Bülowstraße 7, 10783 Berlin
Where street art and graffiti find an indoor exhibition
Since 2013, Urban Nation has connected people to their city through expansive outdoor art projects and integrative neighbourhood projects. Opening its doors as a museum for contemporary art in 2017, the projects exhibited and undertaken are refreshingly poignant. Not only will the artwork be found inside, but the very architecture and exterior of the building have become canvasses in their own right.
By moving the streets indoors, both local and international urban art has found its home on this corner in Schöneberg. With only an optional donation entrance cost, this space remains true to the democratic notion of urban art being free and accessible to all. From Street art fanatics to those with little knowledge, this is a space well worth visiting.
https://urban-nation.com/de/
Rathaus Schöneberg
Am Rathaus 2, 10825 Berlin
Famous for its role during the Cold War
Few visitors to the city may have heard the Rathaus Schöneberg, which functioned as West Berlin's city hall during the division of Germany, but many would recall a monumental occasion that took place on its steps. It was here on June 26, 1963, that United States President John F. Kennedy famously declared 'Ich bin ein Berliner' (I am a Berliner) which today is regarded as the best-known speech of the Cold War.
In doing so, Kennedy highlighted the United States support for West Germany just under two years after the construction of the Berlin Wall. The square before the hall still today bears the name John-F.-Kennedy-Platz. Not only is the hall well worth a visit to relive history but also for its majestic architecture, especially it's interior. And on Saturday and Sundays, you can also find a great weekly flea market in the square with plenty of bargains to be found.
BerlinWinterfeldt market
Winterfeldtstraße, 10781
A weekly organic local market
The Winterfeldt Market is one of the largest and most well-known markets in the whole of Berlin, taking place every Saturday in the shade of the St. Matthias Church. Geared predominately to locals, this is where the neighbourhood flocks for their weekly grocery shopping.
Alongside an endless array of fruits and veggies, many of which are organic you'll also find great meat stalls, cheese, bread, and great sweets and pastries. If the crowd gets too much, duck to the side and sit at one of the many cafes to enjoy the ongoing over a cup of coffee.
Queer nightlife
Europe's largest openly queer scene in the 1920s still thrives here on the streets of Schöneberg today.
Berlin enjoys a long-standing reputation as one of the world's most queer-friendly cities with plenty of LGBT+ nightlife on offer. Whilst this can be found throughout the city, it's historically centered in Schöneberg, close to the U-Bahn Nollendorfplatz. Around Motzstr. and Fuggerstr. you'll find plenty of queer cafes and bars. For a nice speakeasy atmosphere try Heile Welt or Hafen.
If you're in the area in the afternoon Romeo und Romeo café is great for coffee and cake. Be mindful that many bars offer spaces that may be seen as rather taboo in other cities but are openly accepted in Berlin. These streets are also the sight of the Gay and Lesbian Street Fest every year around June/July and of Europe's largest fetish street fair, Folsom Europe, held around September.
Kurfürstendamm and KaDeWe
Tauentzienstraße 21-24, 10789 Berlin
West-Berlins answer to Paris' Champs-Élysées, this high market shopping boulevard is filled with Ritz and glamour.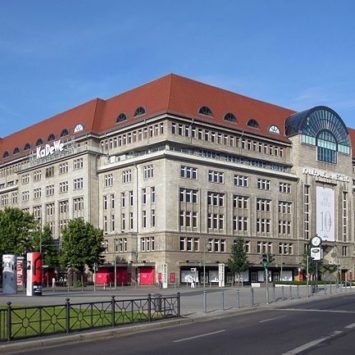 Colloquially referred to simply as 'Ku'damm', this avenue was the center of West-Berlin's flourishing upper class. Expect a shopping spree to cost you a penny however, plenty of the shopfronts are occupied by well-known fashion designers and brands plus the restaurants and cafes can get a little pricy. At one end of Ku'damm sits the famous KaDeWe (Kaufhaus des Westens), the second-largest department store in Europe with over 60,000 square meters of retail space!
KaDeWe was seen as a breathing incarnation of West-Germany's economic success, the Wirtschaftswunder, and as a triumph of West over East. Make sure to make it up to the top two floors, where branded food products from all over the world can be found alongside specialized delicatessens as well as the stunning glass-enclosed Wintergarten food hall.
David Bowie's Berlin Apartment
Hauptstraße 155, 10827 Berlin
A memorial plaque out the front marks the apartment block where David Bowie resided from 1976 to 1978. From here Bowie wrote three of his most famous albums, Low, Heroes and Lodger, now known as the Berlin Trilogy.
Schwules Museum
Lützowstraße 73, 10785 Berlin
The world's first gay museum promotes tolerance and diversity and seeks to explore the history and stories of LGBTIQ+ people and lifestyles.
Winterfeldt Schokoladen
Goltzstraße 23, 10781 Berlin
Possibly among the world's most beautiful chocolate shops, the interior furnishings make for an enjoyable afternoon stop. Not only do they sell Berlin's largest assortment of chocolate, but it doubles as a charming café.
Gasometer Schöneberg
This low-pressure gas container began operation in 1913 and at its time was among the largest of its kind in Europe. Although decommissioned in 1995 and not the most attractive sight, it was nevertheless granted monument protection and is considered a landmark of Schöneberg.
Rüdiger's Berlin
Motzstraße 63, 10777 Berlin
Replete with candlelit tables and crystal chandeliers this Austrian restaurant in the heart of Schöneberg offers intimate dining with bundles of charm. Whilst not the cheapest, given the quality and experience it remains well priced.