Once home to a culture of dissidents, this former East-Berlin district is now a quiet, charming and family-friendly.
As one of the few districts of Berlin to survive the worst of the Allied bombing during WWII, its streetscapes have retained a dreamlike authenticity, with over 300 buildings listed as protected monuments. Although falling into East Berlin, Prenzlauer Berg retained much of its bohemian culture being home to dissidents, artists, intellectuals and even one of the largest spots of East Germany's queer community. A vast majority of the apartments during the GDR were regulated and owned by the state, leading to large scale privatisations following the fall of the Berlin Wall. This jumped the cost of living quite significantly, preventing many of the district's original inhabitants from staying, and attracted more affluent newcomers resulting in the gentrification evident today. Although Germany has produced the lowest birth-rates in Europe in recent years, Prenzlauer Berg boasts the highest in the country, with its trendy cafes now swamped in strollers.
To take in the cobblestoned streetscapes and classical architecture, stroll down Kastanienalle or visit the areas around Kollwitzplatz and Hemholzplatz.
Interested in finding out more about Prenzlauer Berg? Our guides explore its rich alternative history four times a week on our 'Real Berlin Experience' tour.
Alternative Berlin's Recommendations:
Gethsemane Church
Stargarder Str. 77, 10437 Berlin
A beautiful park with a rebellious history
Famous for its role in the peaceful revolution that aided the downfall of East Germany in 1989, this church became a meeting point for dissidents of the East German regime. Although the secret police of the East German state, the Stasi, made it incredibly hard for dissident movements to congregate, churches were among the only spaces that whilst they could infiltrate, they were unable to police.
The movements emanating from the Gethsamane Church were not arguing against communism so to say, but rather a democratisation and restructuring of socialism. Four days previous to the fall of the Berlin Wall on 5 November 1989, a declaration of "The wall must go!" was made by Rolf Reuter following a performance of the state opera which sparked a spontaneous protest down the Schönhauser Allee.
Water tower
Knaackstraße 23, 10405 Berlin
Family park in the heart of Prenzlauer Berg.
Built-in 1877 to provide water to the workers housing in Prenzlauer Berg, it is the oldest water tour remaining in Berlin. Today, the tower is surrounded by a pleasant neighbourhood park, a great place to take a book and read, relax in the sun, play table tennis or let the kids enjoy the playground. Situated amongst the cobblestone streets of Kollwitzplatz, the area is great for coffee and strolling and the park is now a neighbourhood favourite, especially in the summer months.
Although calm and serene today, this site also has a rather dark past. Beginning in 1933, the same year Hitler became chancellor of Germany, the site was repurposed and used as the first concentration camp within Berlin in which socialists, communists, Jews, and other unwanted people were detained and murdered without trial. A small plaque can now be found commemorating these events.
Kulturbrauerei
Schönhauser Allee 36, 10435 Berlin
Industrial architecture with plenty to offer during both the day and night.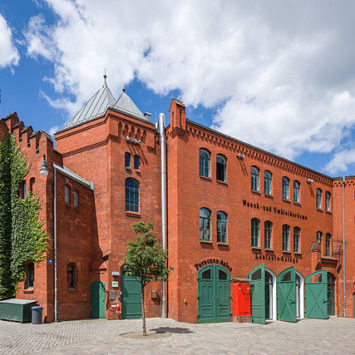 Although production is now discontinued, the site was once home to one of the largest breweries in the city, catering to Berliner's thirst for beer. Not only is it a great example of the industrial architecture once abundant throughout the city, but it also operates today as a cultural space with a cinema, Biergarten, clubs, a museum and much more. The Museum in der Kulturbrauerei is well worth a visit and a great alternative to the better known and busier DDR museum.
Exhibiting a showcase of 'everyday life in the GDR', you can view the famous East German Trabi complete with a holiday tent on the roof, an East German kiosk replete with newspapers and propaganda posters, a typically furnished East German apartment and much more. The Museum opens Monday to Saturday and admission is free. If you happen to find yourself in Berlin during December, then a trip to Kulturbrauerei to visit the renowned Lucia Christmas market is a must!
(https://www.hdg.de/museum-in-der-kulturbrauerei/)
Mauerpark and Bernauer Straße
The sight of the former Berlin wall and today Berlin's best flea market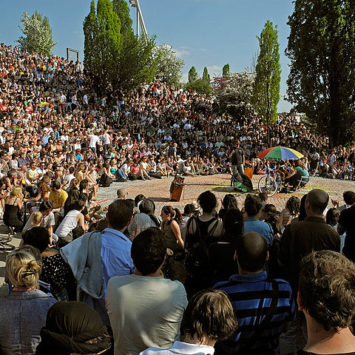 For close to 30 years the Berlin Wall ran right down Bernauer Straße. In 1961, it was the sight of many daring escapes from apartment windows and today its history has been immortalised in the Berlin Wall Memorial. The only remaining section of the wall preserved in its full depth, visitors can view how imposing the border strip, or death strip, really was. This site is well worth visiting for those interested in the division of Berlin and provides far greater historical information and context than the more famous Checkpoint Charlie or East Side Gallery.
At one end of the street sits Mauerpark, or 'wall park' on the former site of the death strip. Although once demonstrative of the divide of Berlin the park today encapsulates what a modern Berlin has to offer. Visiting the park on Sundays in good weather you'll find yourself amongst thousands, browsing is the flea market or enjoying its food stands, setting up a grill and drinking in the sun, listening to an array of local buskers or participating in the renowned outdoor 'Bearpit Karaoke'. An absolute must on a warm sunny Sunday!
Prater Beer Garden Berlin
Kastanienallee 7-9, 10435 Berlin
A historical political meeting point for Berlin's proletariat, this beer garden has been serving beer on the site since 1837! Includes a restaurant and an outdoor area that seats 600 in the shade of the trees.
Saint George's English Bookstore
Wörther Str. 27, 10405 Berlin
New and second-hand English bookstore. Stocked from the floor to the ceiling, book lovers can get lost for hours. Fantastic collection of Non-fiction and political literature.
Tipsy Bear
Eberswalder Str. 21, 10437 Berlin
Although only opened in 2019, this local favourite feels like it's been around for years. Regulated by a queer crowd although open to everyone, there's something on every night, from talent shows to bingo and Karaoke. Be sure to check out the Sunday drag queen performance!
(https://www.instagram.com/tipsy_bear_berlin)
Ökomarkt am Kollwitzplatz
Kollwitzplatz, 10435 Berlin
Held Every Thursday from midday, this eco-friendly street market sells organic produce, crafts, clothing and more from over 50 stalls.
Paul's Boutique
Oderberger Str. 45, 10435 Berlin
Rammed full of sneakers, jeans, shirts and more, leave a little time for this vintage clothing store because you'll have to do some digging.