Punk rock, protest, revolt, and passion. Witness the melting pot of Berlin at its rawest and finest in Kreuzberg, the cities epicenter of counter-culture.
The former West-Berlin district of Kreuzberg, with its rich alternative and counter-cultural history, is a must-visit during any stay in Berlin. Although hard to believe today, Kreuzberg remained a very rural place well into the 19th century. This only began to change come the 1860's, when the industrialisation of the Prussian capital caused a mass increase in the population and districts such as Kreuzberg grew to house Berlin's newly found working class. Following the Second World War, rents were regulated throughout the district, resulting in an undesirable climate for investment, and the district remained the poorest in West-Berlin. Much of the Turkish populations immigrating to West-Berlin found their home in Kreuzberg as the regulations kept housing in the district cheap, albeit of low-quality. Beginning around the 1960s, Kreuzberg also became the epicenter of West-Berlin's counter-cultural movement led by student protest, squatting, punk and anarchist movements. Despite recent gentrification of the district, a strong sense of pride and a willingness to protest has helped ward off the worst of commercialisation and Kreuzberg retains its alternative and multi-cultural character.
Interested in finding out more about the alternative scene in Kreuzberg? It's a favourite of our guides with both the 'Real Berlin' and the 'Free Tour' exploring in-depth the multi-faceted counter-cultural history of the district.
Alternative Berlin's Recommendations:
Kottbusser Tor
Gritty and dirty and above all fun; just how the locals like and keep it.
Kottbusser Tor, or 'Kotti' as it's often referred to, is the surrounding area around the U-Bahn. Gritty, crowded and full of characters it's an ideal place to bar hop for a few drinks in the evening. Both Möbel Ulfe and Roses are great queer bars in the area or try Falken or Trinkteufel for a more punk alternative setting. Paloma bar and Monarch Bar are also great for live music and its panoramic windows looking over the U-Bahn line, but check what's on in advance as the concerts can vary.
There's still plenty happening during the day time too! The area also has plenty of locally owned retail shops and an abundance of cafes to enjoy. Another great tip is Let it Bleed, a small, cosy independently owned gallery space with both arts for sale and exhibitions from local artists.
And be sure not to miss out on the food! Hasir is a hit among meat-lovers, as well as Angry Chicken. Or for those not so big on kebabs, Falafel 1001 is one of the best in the area.
SO36
Oranienstraße 190, 10999 Berlin
If the walls could talk, the tales would be endless.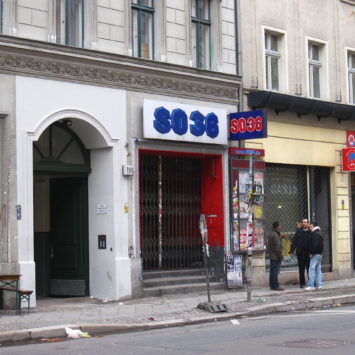 No write-up of Kreuzberg is complete without homage to the famous SO36. Taking its name from the former area code of which it's situated and run by the non-profit organisation 'Sub Opus 36 e.V', this venue sees itself as much more than a concert hall or club. Whilst during its early years SO36 played a large role in pioneering the punk rock music of West-Berlin today a much larger variety can be found.
And it's not just about the music, with panel-discussions, fundraisers and public readings being just as much a part of the ethos of the space. From bingo to karaoke and the oriental queer party 'Gayhane', SO36 is about as diverse as it gets and you'll always be in for a treat!
(http://so36.de/)
FHXB – The Friedrichshain-Kreuzberg Museum
Adalbertstraße 95A, 10999 Berlin
Discover the rich history of the district and how it came to be.
As stated on their website: 'The FHXB sees itself as 'the memory of the district'. Offering changing exhibitions, the museum provides a fascinating sociological history of Kreuzberg; from its streets to its people. A permanent exhibit focuses on urban development as well as the impacts of immigration. Closed only on Monday and with no entrance fee, it's an ideal afternoon activity.
(https://www.fhxb-museum.de/)
Künstlerhaus Bethanien:
Kottbusser Str. 10/d, 10999 Berlin
Squatted and saved from demolition in the '70s, this architectural gem still stands today with plenty to offer.
Built-in the middle of the 19th century and having survived the worst of WWII, this former hospital is one of the few architectural achievements from this era left within Berlin. Although decommissioned in 1970 to be scheduled for demolition, the building was saved in 1974 by local citizen's initiatives following which the Kunstlerhuas Bethanien was founded. Today the space is used by charities, non-profit organisations, and artists. Additionally, the second floor showcases temporary exhibitions. With no cover fee, it's always well worth a visit.
The former nurse's dormitory, now named the Goerg-von-Rauch Haus, also played an enduring role within the squatting history of Kreuzberg. Following the death of West-Berlin anarchist Georg von Rauch at the hands of West-Berlin police in 1971, the space was squatted by political activists. The squat house is still active through till today, making it one of Berlin's longest surviving.
Additionally, for some great German food visit the café/restaurant Drei Schwestern within Bethanien.
Interested in learning more about squatting in Berlin? Take a tour! Both our Real Berlin and Free Walking Tours will delve into the protest movement that played a large role in shaping the political atmosphere of Berlin.
https://www.bethanien.de/
Markthalle Neun
Eisenbahnstraße 42/43, 10997 Berlin
A reopened historic food market where stalls offer all types of food you could imagine. Most popular on Thursday evenings between 5-10pm when locals and tourists alike go to get their fill.
Bugermeister Schlesisches Tor
Oberbaumstraße 8, 10997 Berlin
Established within a former train station toilet underneath the u-bahn, this novel experience also offers some of Berlin's best burgers. Often busy, expect to wait in line and eat standing.
Curry36
Mehringdamm 36, 10961 Berlin
Looking to try Berlin's famous currywurst? Then this is the place. Expect to always find it busy, although the line moves quickly, and eat standing. A true local snack experience.
Clash
Gneisenaustraße 2A, 10961 Berlin
Large lively speakeasy punk bar. Although crowded and loud, it's always good fun. You'll also find cheap beer and pool tables.
PICKNWEIGHT – Vintage Kilo Store
Bergmannstraße 102, 10961 Berlin
Vintage clothing store not only fighting for sustainable clothing but also for individuality in fashion. What's more, you'll pay by weight and not by item!