Its time for some flat track action!   The Berlin Bombshells, one of Germany's premiere Roller Derby teams, will be playing against London's talented Rollergirls this Saturday the 22nd at 6pm.  If your up for some fast, hard carnage on eight wheels, than The Arena is the place to be in Berlin this weekend. Be there or be square.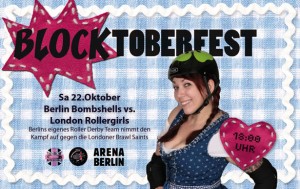 For those who don't know what I'm taking about. below is a brief Explanation.
Enjoy!!!
And Here are some great hits from the LA Rollergirls:
For more check out the Bombshell's website:
http://bearcityrollerderby.com
As well as local skate shops
http://de-de.facebook.com/pages/Quad-Roller-Skate-Shop/209855909035630
see you there!!!