Do you also think February is the most painful month of the year? It's still cold and grey and you have already read all of the books you wanted to read and slowly get cabin fever staying inside? We do too but we wouldn't be Alternative Berlin if we couldn't fnd enough things to step out of the every day for a couple of hours and entertain ourselves in diferent alternative and conservative ways, here our tips for February this year:
SO36
"Kreuzberg is not just the name of a district of Berlin, it's an attitude."
Diverse, vibrant, rich in tradition, visionary, the most important space in Berlin for cultural, social, and political events, projects and concerts. From big names like Die Ärzte and The Ofspring to newcomers from genres like punk, metal, hip-hop, crossover, techno and drum 'n' bass are to be found next to panel discussions, public readings, and political fundraisers , neighborhood bingo and karaoke nights, the ballroom dancing in "Café Fatal", or the oriental gay party "Gayhane" and the rollerdisco just to name a few regular and special events hosted here in the heart of Kreuzberg.
Events we will be joining here in February are defnitely the United Voices Festival on the 4th featuring 4 Promille / Infa Riot / Gatans Lag / On the Job / The Detained and (TH)INK ABOUT THAT queer antifascist Tattoo Convention on the 12th getting some fresh ink under our skins before we play some Bingo and try not to fall too hard in the Rollerdisco after too many delicious Sternis from the bar.
Here all details and booking link: tickets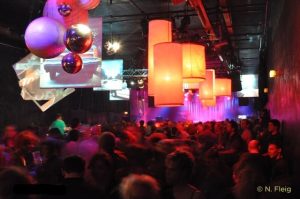 COSMIC COMEDY NEW STAND UP AWARD 2023
Pretty much our all time favorite since we discovered english speaking comedy in Berlin Cosmic Comedy is still putting on their awesome events in Kookaburra Club and provide a very special treat this month: hosting the 4th edition of the Berlin New Stand- Up Award.
With almost 90 up-and-coming comedians taking part it is going to be the fercest competition so far and we are looking forward to watch the fnest fresh new faces from all around Germany compete for eternal glory, fame and 1000 EUR!
Best thing: the audience decides which top 2 contestants made everybody laugh the hardest and will go through to the semi-fnals!
All details for the event, all other shows in February and of course tickets here: /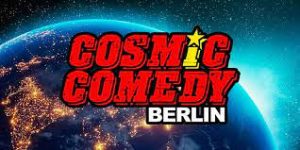 ILLUSEUM
There are a lot of great museums in Berlin and after a team gathering here we think nobody should miss this one as it ́s pure fun, faszinating and educational at once.
Struggling in the Vortex tunnel, getting dizzy in the Tilted room, see yourself shrink and grow in the Ames room and take fotos fying in the Upside-Down room. Amusing and awesome tricks will teach you about vision, perception, the human brain and make it easier to understand why we see things diferently than they actually are. The museum collects and exhibits all sort of diferent optical illusions and provides some challenging educational games and puzzles on top. Here is the website with all details: /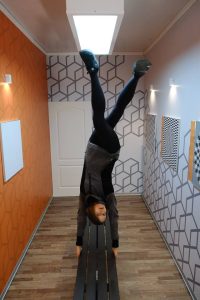 It ́s a paradise of warmth, water and music and is perhaps one of the most extraordinary locations in the city when you are looking for a good swim or sweat in a day spa. The minimalist architecture provides the perfect setting to leave the outside world behind for a few hours and foat in the warm water while listening to underwater music in the Sound pool or get even warmer in one of the 4 diferent saunas. Massages and other wellness treats are as well available as well and every Tuesday there ́s the Float with Lights event with colourful light globes all over the sauna and spa landscape and Thursdays DJs provide a mix of smooth downbeats and the fnest house vibes above and under water to switch of, relax and feel good.
Here are all details: index.php
FLEAMARKET & STREET FOOD
We truly miss strolling over all those great fea and street food markets in summer time. Luckily every frst Sunday of the month Old Fleas – Berlin Vintage Market is still happening during winter and the next event is on February the 5th with awesome vintage in the amazing Ballhaus Berlin. Here is their Insta for all details: @berlinvintagemarket
All year around Markthalle 9 has Street Food Thursday 5-10PM happening and also the Farm-Food-Climate Impact Markt on the 6th of February 3-7PM which you should check out if you are interested in our foody future. Here the website with all dates and merchant contacts: /