Berlin´s street art scene can never be accused of being stagnant, inactive, lazy or boring. The sheer volume of local artists and international visitors ensures that the scene moves and develops at a frantic pace. But like most creative disciplines, it goes through peaks and troughs. There are times when the level of excitement seems to reach fever pitch; for instance, when the likes of Viktor Ash, Vhils and Blu suddenly appeared in the city's urban precincts a few years ago. In recent months, there have been visits from other street art heavyweights,  as well as lesser-known newcomers.  All seem to be stopping passers-by in their tracks with clever, imaginative works.  Like gallery enthusiasts buzzing about new exhibitions in the city's more chic creative spaces, everyday Berliners proudly point out and comment upon these ever changing street art works in their vibrant, colourful neighbourhoods.  Below are the works of three artists who have been making regular contributions to Berlin's street art buzz.
Jimmy C
Last week three stunning new pieces appeared at venues in Mitte and Friedrichshain by street artist Jimmy C.  He was able to lay down these three murals with the help of location scout Enar, who also works at Alternative Berlin as a guide and artist.  Jimmy C hails from Adelaide, Australia.  In the 1990's Jimmy became known for his aerosol murals in urban and regional communities across Australia.  Later, Jimmy played a part in developing in South Australia's graffiti scene. By coordinating numerous community arts projects, he gave street art a broader acceptance in the community while teaching street art techniques to young fans of the art form. Jimmy C has exhibited his art all over the world: Sydney, London, Japan and London.  Some of his most familiar works can be seen on the city streets he quietly visits. Wandering around the streets of these cities, one occasionally spots incredible murals like the one below, at Haus Schwarzenberg.
Jimmy C is best known for his drip painting style. The Drip painting technique is a form of abstract art perfected by mid-twentieth century artist Jackson Pollock.  Paint is dripped or poured onto the canvas using unconventional tools like sticks, hardened brushes and even blasting syringes, creating energetic abstract works.  Mexican muralists painters such as David Alfaro Siqueiros specialize in this technique but Jimmy C has transformed it through the use of aerosols and brushes.
Zipper.
With a colourful assembly of spaceships and outer-worldly characters, street artist Zipper is rocketing to a high position in Berlin's streetart scene. His cleverly-placed "D.A.D.'s" (as he calls them) can be seen above cafes, on traffic lights, city walls and even passing trams, where they put a smile on the faces of anyone looking to the skies for inspiration. There are literally hundreds of these rockets lighting up the streets of Berlin and Hamburg.
Zipper's rocketships are produced in secret, possibly in Hamburg, where he resides.  Some are simply cut and painted on foam and others are intricately designed.  Most feature spaceships and space characters like 'Rock´n Roll Man' and 'The Street fighter'.
One gets the feeling there are perhaps a few cleverly hidden messages in the works. Some are accompanied by the caption, 'WE NEED SPACE'.  To me this suggests that all of us in the urban environment are becoming an endangered species… but I recommend that you get out there, find all the pieces of Zipper's puzzle, and piece together their meanings for yourself. Feel free to post your interpretations here!  You can check out some more of Zipper's rippers on his Facebook page.
AliCè.
Alice Pasquini is a visual artist, illustrator, painter and set designer from Rome, Italy.  She specializes in animation for cinema and television at the ARS ANIMACION school. Her artwork, which features a distinctive teal or aqua hue and beautifully-drawn illustrations, can be seen on the streets of London, Paris, Rome, Madrid and now Berlin too. Her work quite often features strong, empowered women displaying acts of love, hope, and affection.  While other public art features themes such as despair, homelessness,  anger, frustration and political angst, Alice´s art brings a more uplifting, romantic quality to the streets.
Following Alice's career on the streets of Kreuzberg and Friedrichshain, one gets the sense of watching an imaginary character's life unfold. Hopes, memories, dreams, fantasies, friendship and even pets feature in her beautiful, illustrative works. Sometimes her works take the form of huge murals, as in Rome and London, while others are so tiny you could pass them every day and not spare a thought for the imaginary beings they depict. Alice's works can be seen on Schliesches Strasse , Kottbusser damm, RAW Tempel.  She often works alongside the equally-talented stencil artist C215.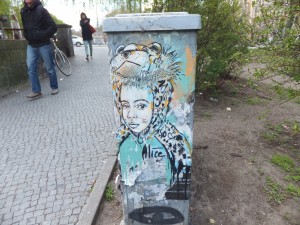 Alice says she creates art about people and their relationships.  "I'm interested in representing human feelings and exploring different points of view.  I am often annoyed by female stereotypes proposed by artists [..] I am seduced instead by real women and hope that, by proposing a different female universe in the street, I will help build a new image of women."  It would be almost impossible to convey the scope of her work in this blog entry, it's so diverse.  Instead, I urge you to take a deep dive here.
Alternative Berlin runs a a dedicated Street Art Tour and Workshop which explores the city's street art landmarks, both the classics and the newest, buzz-generating pieces in town.  Book a tour here and we'll show you the big picture (pardon the pun)!