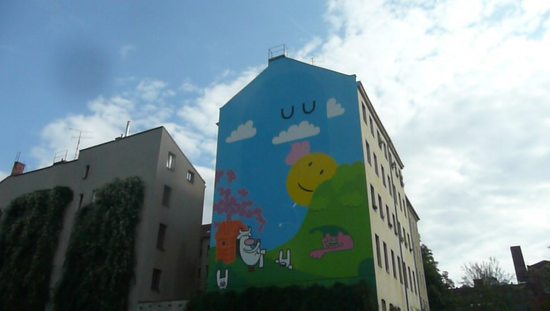 Berliners these days often feel that we struggle to hang onto the culture that makes it the awesome place that it is.  It can and does often feel as though these aspects are being taken away by investors as they cash in.
Yet, there is always a new and helpful or old and already well established Berlin initiative being realized to encourage community development and to replace any lost culture and often also with really good intention.
The Kinderbauernhof am Mauerplatz  which can be found just behind Engelbecken-Hof and the Berlin wall trail at Bethaniendamm and  is one of these gems.  Although it is also not a new thing, it has been around since 1981,  it is all about bringing together the multicultural melting pot that is Berlin.
Berlin is all about transformation and has been since it's historical past, ever changing and evolving so it is no wonder that an old bombed out rubble site has been transformed into a garden and  a kind of oasis for adolescents and children of all cultures to come together and learn about ecological cycles, plants and animals. The initiative was started by the local community from many nationalities who funded it themselves and has grown to now even be reputed by massive organisations such as Greenpeace and others .
The space is a petting zoo and allows for children to learn and interact with kids from other nationalities such as German, Turkish, Arabic etc. about taking responisibility for themselves, the community and the environment by learning through a 'hands on' experience.
It is publicly funded and always requires more funding if you feel or know anyone who may want to help them out. We at Alternative Berlin are really impressed by this place and have decided to also donate shortly to help keep this awesome place alive, feel free to do the same.
http://kbh-mauerplatz.de/spenden.html
If you have kids or fancy petting some really cute animlas such as Geese, Donkeys, Guinea Pigs, chickens, sheep, rabbits, goats or horses vist this place in Kreuzberg – Leuschnerdamm 9, 10999 Berlin.
Alternatively, you can come along on our Real Berlin tour as we sometimes stop in at this venue.
https://alternativeberlin.com/real-berlin-experience-culture-tour