I am actually sitting with the window open and short sleeves on! I was starting to think that we were not going to have a summer this year. Two weeks ago,  it was raining and cold, but this week we have finally seen some real heat and sun and it has been so great!
I originally come from a warm country and some of the summer days a few weeks ago  in Berlin were like the Autumn /winter days in my country, so I have really been waiting for ages for this warm weather.  Like most of us here, I really like to take advantage of the hot weather when it is around and so I spend quite a bit of time researching outdoor venues in Berlin,  like beach bars, outdoor pools and other swimming spots and parks so that I can really get all the BBQing, games, sunbathing and swimming in a limited time.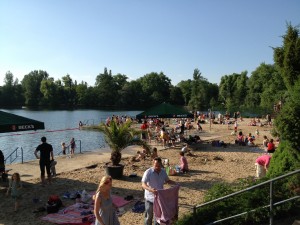 One of my favourite summer spots in Berlin has everything you could want in one place is known as Weissensee lake. The company I work for, when not writing these exciting blogs for Alternative Berlin, love it so much that we have our summer staff party there every year and it is always such a great time!!
Apart from the obvious reason to love the place such as the swimming in the lake to cool off and the chilled bars you will be suprized to find so many other cool things in that area to do and see. Did you know that you can have a massage on the beach or that you can grill there or that you can even get a cool tattoo from some expert traditional & fantasy artists ? Yes, there is an awesome tattoo spot near the area called heißes-fleisch. We love the 1920´s style decor inside, very cool.
If you want to see another cool place to get a culture fix try  the nearby Brotfabrik which is a cinema, bar and Gallery all in one  and is another place with a beautiful interior and an old fashioned design which seems to be quite a reoccurring theme in this area.
Walking the  forest trails you´ll came across loads of  cool graffiti by notable artists like Riot in the area. There are also some really old school tags and large scale bombings on some of the desolate, run down structures just off the main strips. It´s an interesting mix here of lovely villa´s and broken down old East German housing. Could this area be the next hyped suburb in Berlin ? Time will tell.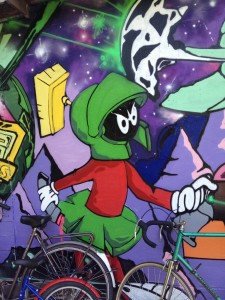 There are  the usual places for table tennis and volleyball in the parks and at the huge beach bar on the lake with a variety of connected restaurants and cocktail bars to choose from. Bike riders and joggers seem to like the area too around the lake and you might be surprised to come across a couple of very furry contented residents in their enclosure that are well fed and quite possibly the happiest deers in the entire city. Be rest assured there is much more exciting stuff to discover here and I could see myself  living here in Weissensee  … one day in the future surrounded by nature living the dream life and just stone throw away from the inner city.
For more info about all that is on offer over there, check out their website: http://www.binbaden.com – they have loads of events on all the time!
Today is especially warm, why not head down there for a swim in the lake and then check out what else you can find? We would love to hear about it!