Two popular things in western society which seem to be both lacking in quality and quantity in Berlin have got to be hamburgers and hip hop music. In the land where minimal techno and döner kebabs reign supreme, the search for some decent gangsta beats and a nice piece of meat and some buns (dirty pun not intended) is a true mission. So when I heard about an event combining the two, Burgers & Hiphop, I knew I had to check it out.
Arriving I felt like I had walked into the American ex-pat version of heaven. Food stalls with every kind of meat-heavy street food lined the walls of the dance hall at Prince Charles; the scent of sizzling bacon and the sound of Biggie Smalls filling the room. We arrived around 7pm and the vibe was still teetering somewhere between a Markthalle IX event with pram-laden couples sampling the cuisine and a 20-something Astra-drinking dance party.
The set-up was actually quite ingenious–effortlessly combining a food hall and club space without a greasy, messy overlap by keeping the food predominately in the main hall but also providing seating by the DJ booth and main bar which was removed to make more dance floor space as the night wore on.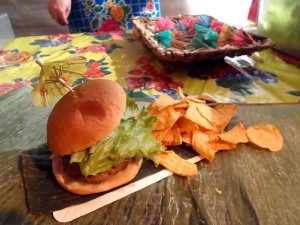 The term "burgers" seemed to be used a bit loosely as far as the food goes because the vendors ranged anywhere from ethnic street eats like Bao Kitchen to southern BBQ and American favorites like Mogg & Melzer's mouth-watering ruben sandwiches. Puzzling though as the selection may be, there certainly were no complaints from anyone (myself included).
The favorite undoubtedly was the Kimchi Princess booth, their menu of Korean mince-meat burgers drawing a queue across the room. We decided to go for the "Notorious BLG" (Bulgogi-Kimchi-Burger) and thankfully scored the last piece of meat leaving those standing in line behind us to groan in protest. And wow were we thankful that we did!–it was truly a remarkable sandwich. Sweet melt-in-your-mouth meat topped with tangy kimchi and balanced out by fresh tomato and spikey arugula lettuce–in one word–perfection.
One by one, the food vendors started to sell out and pack up and the crowd began to trickle from the food hall to the large walk-around bar and dance area. My friend joked that this could be a perfect SNL skit of awkward white hipsters dancing, and it was true. Fedora-ed guys and cardigan-ed girls timidly began to open up and pretty soon no one cared that they couldn't dance to this kind of music; dropping it low and rapping to NWA like they were "Straight Outta Compton."
The music started on a high note with plenty of crowd-pleasers like Missy Elliot and Lil' Wayne but began to go downhill with the second DJ set which was a bit too pop-heavy. It started with the typical soft-core old school raps like "Jump" and "I wish" by Skee-lo and from there it was a quick transition to a series of bad R&B and watered-down hip-hop like Ciara and J-lo which noticeably brought the energy level down. However, the vibe was relaxed and it was certainly a refreshing change–for the first time in a long time I found myself sweating on a dance floor because I was dancing my ass off and not just because I was stuffed like a sardine into a smokey techno hall. I went home with sore thighs, a full belly, and a grin on my face; overall great event guys, can't wait for to see what's next.
https://www.facebook.com/princecharlesbar
https://www.facebook.com/imbissrepublik
https://www.facebook.com/BaoKitchen
http://www.style.de/kalender/burgers-hiphop-party-im-prince-charles/