The Craft Beer Revolution
In a country where beer is cheaper than water, it isn't exact hard to find a big frothy beverage to cure that hard earned thirst. However, not even those ridiculously low Germany prices could keep the country's national beer consumption from sinking to a 25 year low in 2013 (http://www.thelocal.de/20140130/german-beer-production-sinks-to-25-year-low). Beer consumption in general may be on the decline, but this is one thing that cannot be said for the growing craft beer revolution.
India Pale Ale's (IPA's), Stout's, Porter's and other such varieties of beers were previously quite hard to come across in Berlin, but with the recent, I'm talking the past 5 years or so, craft beer revolution, these varieties of beer are becoming more easy to find. Both your average locals as well some larger beer manufactures have started to look beyond typical German brewing techniques and ingredients and have started to produce varieties of beers that 20 years prior would not have been allowed under the former German Beer Purity Law the Reinheitsgebot.
The revolution is still in its youth, but year after year the movement seems to gather in speed. Over the past 10 years the number of microbreweries in Germany has tripled from 300 to over 900 and in Berlin, the capital of Germany and the craft beer revolution, some 20+ microbreweries have popped up over that same time period. But it isn't only microbreweries who are selling craft beer, various shops and bars around Berlin have also joined the revolution and are now supplying their customers with craft beers from Germany and around the world. But where are the craft beer hotspots in Berlin?
Probably the best place to start looking for craft beers is from the source itself, the microbreweries. Many microbreweries around Berlin have connecting bars where you can consume their products, which are made only meters away. Some of Berlin's best include:
Brauerei Eschenbräu (http://eschenbraeu.de/) in Wedding who not only brew a Pilsner, a Dunkle (dark beer) and a seasonal beer, but also make their own apple juice!
Vagabund Brauerei (http://vagabundbrauerei.com/) also in Wedding produce an IPA, a Hoppy Weisenbock, an American Pale Ale, a Coffee Stout and a Szechuan Saison.
Heiden Peters (http://heidenpeters.de/) in Markthalle Neun in Kreuzberg sell a variety of beers brewed by themselves, as well as some other craft beers brewed elsewhere. Expect to find a variety of Pale Ales, Porters and Stouts.
Brauhaus Südstern (http://brauhaus-suedstern.de/en/) also in Kreuzberg not only brew a Helles (light beer), Dunkel (dark beer) and Weizen (wheat beer), but they are also the proud owners of a world record for the Worlds Strongest Beer at 27.6%!
Hops and Barley (http://hopsandbarley.eu/) in Friedrichshain are one of the most well known microbreweries in town and here you can find a Pilsner, a Dunkle (dark beer), a Weizen (wheat beer) and their own Cider.
Besides the breweries themselves there are some bars around town that have German and international craft beers on their menus with probably you best option being Monterey Bar www.montereybar.com in Prenzlauer berg. Although these guys are not brewing beers themselves, their beer menu boasts a massive 80 different craft beers from Berlin and around the world. You´ll find the likes of Mikkeller, Rogue ales, Firestone Walker, Anchor brewing, Beavertown, Buxton, Brewdog, Stillwater, De Moolen, Rodenbach and De Struise nestled alongside a host of local craft beers from Braukunst Keller, Schöppebrau, Hanscraft, Camba and many more on their rotating list .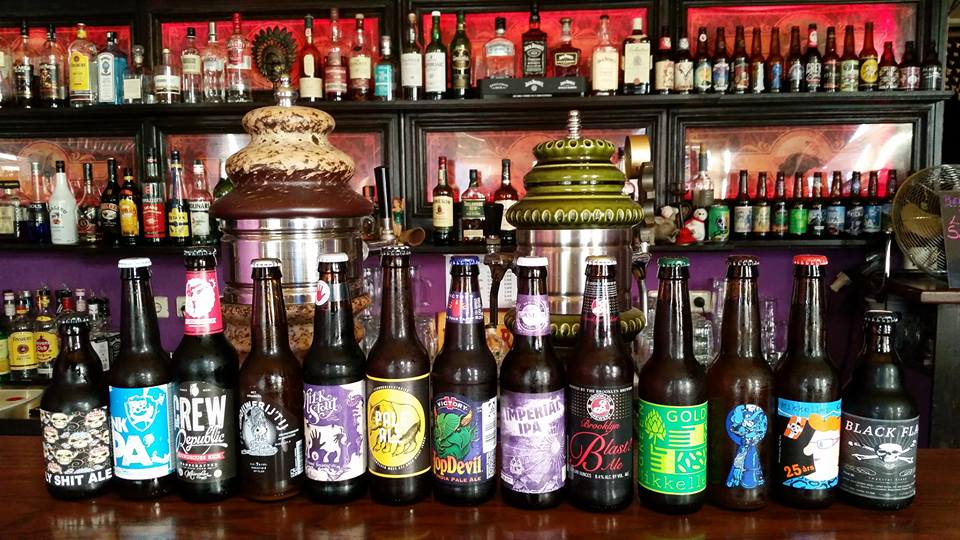 Another option, if you would prefer to consume your craft beers at home, is the Berlin Bier Shop (http://www.berlinbiershop.com/). They boast a large variety of craft beers from around the world and are constantly getting new and different types of beers for its customers. The Berlin Bier Shop also often hosts beer tasting nights, where you get the opportunity to try a variety of beers and meet other craft beer lovers.
 The locations above are just a few examples of places where you can find craft beer. I am sure that in the future, as this scene becomes more and more popular, there will be even more options of bars, microbreweries and shops to find a great tasting locally or internationally brewed craft beer.
By Liam Gook
Founder of Mogli Oak Berlin (www.mo-berlin.com)