Alternative Berlin Green Tour  by Tiffany Herrington
If this is your first time in Berlin, one of the first things you will likely notice are the amount of sprawling green spaces co-existing beautifully among urban areas and buildings. You might be subsequently impressed to learn that Berlin has more parks than any other city in Europe, and despite its immense size, has eluded the concrete-jungle existence that is the reality of many other metropolis world cities.  But Berlin is not content to just sit pretty.  The inhabitants of this liberal, progressive, forward-thinking city have taken its green presence to the next level, and are using technology as well as grass-roots efforts to make this city an eco-friendly one, a model for others to follow.
Alternative Berlin's Green Tour examines these developments and provides an education as to what they mean for the city, all the while combining these elements with other things Berlin is so rich in, history and art.  The tour begins at a train station that was a former transportation hub that was used during World War II to deport thousands of Jews, mostly elderly men and women.  Hitler's eventual plan was to turn the station into an Olympic-sized swimming pool, a plan that was thwarted by British and American bombs and Soviet artillery shells.
The station currently exists as a peaceful green space itself, in close proximity to a recycling area containing bins for various types of waste.  Germany has the highest recycling rate of any country in Europe, and these bins have been in use since the 1980's.  The walls behind them are painted over with murals depicting picturesque outdoor scenery, because why leave something plain, when you can make it artistically interesting?  Gotta love this city.
Germany has imposed a ban on traditional garbage dumps, replacing them with one of the most advanced waste-management systems in the world, and by 2020, intends to eradicate any remaining landfills in the country.  Berlin sees waste management as a boom industry of the future and is implementing an innovative waste-management policy so as to give its local enterprises in the sector a head start.  As a result, 55,000 old garbage dumps have been replaced by 70 incinerators, 60 biological and mechanical waste-processing factories, and 800 units producing compost from organic waste.  Bye bye, trash.  Hello, energy production and billions of euros saved.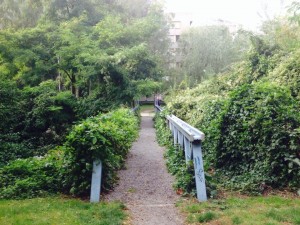 No type of waste is safe from being reused and recycled here, and that includes those of the grey and black water variety.  Started in 1987 the research project investigates innovative water management and urban food production and has developed and implemented a water purifying system that replicates systems in nature.  It takes the grey water from 75 surrounding apartments and runs it through a reed bed purification system which allows the water to be used a second time, savings residents around 3 million litres of water a year (an Olympic swimming pool holds around 2.5 million litres).  There are plans in the works to create a black water purification system which will convert human waste into compost and fertilizer, which will feed greenhouses and increase and improve food production.

Not far from the Roof Water-Farm, another type of life cycle continues in an abandoned railway yard. The Tempelhof switchyard, a derelict railway site, was completely shut down in 1952.  In the space of just 50 years, this 18-hectare space has assumed the newborn identity. It has been transformed into a natural urban reserve through the help of conservationists and artists, and has become a diverse, species-rich natural oasis in the heart of the city, with rich dry grassland, jungle-like woodland and herbaceous vegetation.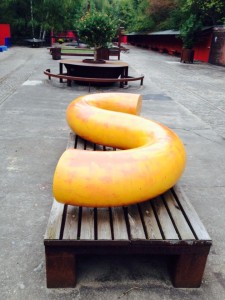 This beautiful urban nature park is currently home to two thirds of Germany ́s bird population, as well as bumblebees, spiders, endangered butterflies, praying mantises, hundreds of different plant species and a massive variety of giant mushrooms.  To be able to walk along rows of railroad tracks that have been turned into foliage-surrounded walkways, with the tracks still visible in the concrete, and see trees growing up through parallel railway tracks, the spikes beginning to split in their wake, is a fantastic experience and a surreal firsthand look at the way nature takes over anything left to her.  And in true Berlin fashion, expect to see street-art in the park, in the form of graffiti on the old walls of the railway station, as well as an array of unique sculptures nearby the former locomotive hall, now used by artists as a performance and rehearsal space.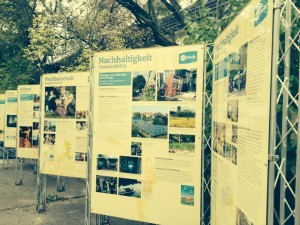 In keeping with the theme of artists and community working hand in hand to promote environmental awareness, conservation, and culture another community project  in Marienfelde has taken the initiative in this regard.  Started in 1979, this space was originally a film copy centre, but when it was later scheduled for demolition, an idea came together to give the space a second life as a centre for culture, community, and ecology.  The site currently has 30 residents and over 160 co-workers who form and test new concepts for producing socially and ecologically responsible ways of living in a metropolis.  Solar panels provide all the power for the whole complex, and green initiatives include gardens, green roofs, independent energy sources and a rainwater-collecting system.  An in-house Organic Bakery and Confectionery and Natural Foods Store provide an assortment of sustainable and tasty food items (I can personally attest to the deliciousness of the caramel coffee and schwarzbier!), and there is a children's farm onsite where kids can learn to care for animals.

The Neighborhood and Self-Help Center provides encouragement and assistance in cultural as well as social, health and family matters, and a range of workshops offer opportunities for young and old to remain active whether as athletes, musicians, dancers or circus artists.  The center hosts a circus school, as well as performances by international artists, festivals, in-house productions, comedy, cabaret, dance, world music, children's programs and professional theatre presentations.  This is  progressive and sustainable living at it´s best.
In another salvaged space, in nearby Kreuzberg, Prinzessinnengärten peacefully occupies a piece of land previously rendered a wasteland by heavy street fighting during World War II.  The site sat vacant for 50 years until a community group called Nomadic Green took it over in 2009, cleared it of debris, and transformed it into an organic, mobile garden.· By growing vegetables in rice bags, plastic crates and milk containers they have created an ingenious and unique system where they can easily transport the plants to another location if need be.
Prinzessinnengärten is an urban place of learning, where locals can come together to experiment and discover more about organic food production, biodiversity and climate protection. Gardening and beekeeping workshops are offered, and the site features a library of gardening books, a plant shop which sells vegetables and herbs, and a cafe-restaurant made from a recycled shipping container that sells fresh food from the garden's produce as a fantastic way for visitors to enjoy the whole cycle from planting to harvesting to eating the food that is grown on-site.  Guten appetit!
If you don't get your fill of fresh, organic local food at the garden, worry not – you can do so at Markthalle 9, in the heart of Kreuzberg.
One of only three remaining market halls in Berlin, this historical monument is 120 years old and has endured a violent past during wartime, but it survived beautifully and now lives a peaceful existence as a place for small traders again.  Here, you can find an incredible array of delicious, sustainable, local food (as well as a brewery!) sourced in ecologically and socially responsible ways, in direct contact with the producers.  The market hall also offers space for initiatives from local residents and is a platform for projects that deal critically with the topics of nutrition, urban, agriculture, biodiversity and the environment.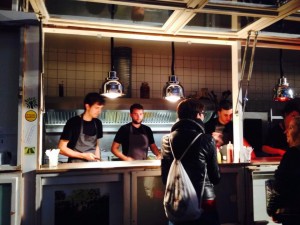 It is a dynamic space in which to eat some incredible food prepared in front of you, drink a beer brewed right in the building, and become totally immersed in the deep history and progressive existence that make Berlin the fantastic city it is. A city where urban living and eco-friendly living are synonymous, innovative technology and hands-on, organic methods combine to achieve a healthier environment and responsible,conscious standard of living, and the future is looking green.
BOOKINGS AND MORE INFORMATION : CLICK HERE