By Hannah Graves
Here at Alt Berlin HQ we are dedicated to making sure that you're kept in the know about all the coolest events. One of the best things about our great city is that there is ALWAYS something going on, every night of the week, across a huge array of venues. Each month in the blog we bring you our pick, and February sees a strong line up! To stay up to speed on other underground events make sure you are following us on Facebook and Twitter where we regularly post about things we would want to go to, and often do. Which is why, when you're out on your tour with us you should definitely ask your guide for their insider tips too!
Here's our top five for February, with links to any other information you may need over on the Facebook event pages.
CINEPHILIA at Il Kino
Every month, CINEPHILIA presents a film that they consider essential, but that has not reached the audience they believe it deserves. But shhhh, it's a secret. They don't reveal the title of the movie that will be shown before the screening, so you won't know what you will be watching until the night. Berlin has loads of great independent Kino's (cinemas) and events like this help to make sure that huge multiplexes and mainstream movies don't take over!
https://www.facebook.com/events/1642720992656520/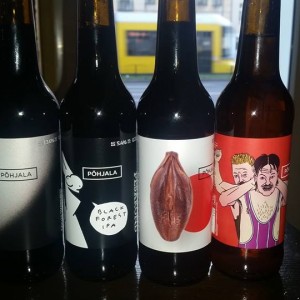 Põhjala Brewing Tap Takeover at Monterey Bar
The Monterey Bar is a Berlin craft beer mecca, which is now internationally famous for events like this one. This alternative yet cosy bar is committed to bringing new beers to the city, supporting creative and progressive brewing wherever possible. This time it's the turn of Estonian brewery Põhjala to take over the taps at The Monterey.
https://www.facebook.com/events/1553093635009534/
Wurst & Bier at Markthalle Neun
Germany isn't just about sausage and beer but Berlin will be for this event. Sausage and beer both have a long tradition and history and the team behind Wurst & Bier want to keep those traditions alive by showcasing experimental and quality products. Spend a Sunday afternoon trying great, and often locally brewed craft beer whilst stuffing down as much meat as you can manage.
https://www.facebook.com/events/1550505925271896/
Ardal O'Hanlon Stand Up Comedy at Urban Spree
It's that guy from Father Ted! Although best known for starring TV roles, Ardal O'Hanlon is also a highly acclaimed stand up comedian, he's toured internationally to sell out audiences and his show at Urban Spree this month is not to be missed.
https://www.facebook.com/events/1686403381646417/
Paranoid Club at Lido
Every third Saturday of the month the Paranoid DJ team play a selection of 70s hardrock, 80s metal, 90s alternative and psychedelic rock to Berlins edgy alternative music fans. This is a rock n roll party for rock n roll people but the vibe is always good and the Jack Daniels flows well into the small hours.