By Hannah Graves
Love, is in the air. Valentines day fast approaches, a day when couples have to actually spend some time together. We had a think about the best ways to spend February 14th here in the Hauptstadt. Here's our pick of alternative Berlin places to take your date this weekend. If they don't appreciate any of these activities, it might be time to get back on Tinder. Already swiping? These things are all just as fun without a partner.
Get tattooed! If they aren't prepared to get your name tattooed on them after the second or third date then you're probably wasting your time. Bläckfisk Tattoo Co are having a Valentines flash event where you're encouraged to choose from designs that "either express your love or disgust for this holiday". With designs on offer from just 60€ this is a great chance to be spontaneous, spontaneity is sexy!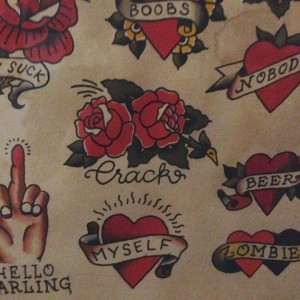 https://www.facebook.com/events/1703964659816402/
How about a game of Lasertag? Nothing says I love you like disabling someone's ability to shoot you first. At LaserStar Berlin you can get hot and sweaty battling it out in their giant UV arena. They have even got a speed-dating event planned for Sunday, so if you're single and looking for a date who thinks lasers are cool (the best type of date surely?) look no further!
https://www.facebook.com/laserstar.rocks/
You can't have a successful Valentines Day without sharing some sausage. Berlin of course is home to the beloved currywurst. If you take a date for a currywurst dinner and they cry about it, they probably have some unrealistically high expectations that you won't want to keep up with. For this activity to be perfect it should be cold and you should eat your currywurst outside whilst it's still way too hot. Here's a handy list of the ten best spicy wurst stops in the city.
http://www.top10berlin.de/en/cat/eating-257/currywurst-stalls-1259
Can you sing? No? Perfect, head to Monster Ronson's Ichiban Karaoke. You can book a booth, or take to the stage to woo your object of desire. This is also one of our favorite places to just get a drink, as it's also fun watching other people murdering or mastering hit songs. Single? Cue up "All By Myself" and order a double gin and tonic.
https://www.facebook.com/Monster-Ronsons-Ichiban-Karaoke-118076854875046/?fref=photo
We hope that whatever you get up to this Valentines weekend, whether loved up or lonesome, it's a blast! Remember to keep an eye on our Facebook page for regular updates on alternative happenings here in Berlin. Alles liebe!