By Hannah Graves
One of the really great things about Berlin is the fact it often feels like a bunch of totally different towns stuck together. Each different district has a distinct personality and when you are visiting Berlin you should take your time to make sure you don't just see one.
So each month on the blog we are going to focus on a different district with a quick run down of what's on offer. For this months post on Prenzlauer Berg we're going to particularly focus on a few places you can find amazing food and drink, because in P-berg there are SO MANY.
First up, Hirsch & Eber. This is a relatively new place and the emphasis is on quality without cruelty, with sustainable game from local forests. Expect organic, fresh and locally sourced food with handmade buns and sauces. There is also a vegetarian option. Some are already claiming this is Berlin's best burger but we're not even getting into that very hot Berlin debate! What we can say is that the food is delicious and complimented by some well chosen craft beers.
If beer is your thing though, you can't get near Danzigerstrasse and not visit Monterey Bar. This place has a seriously impressive collection of over 150 craft beers and is adding to its list all the time. With ten taps that regularly host take overs from the likes of iconic craft beer giants like Stone Brewing, The Monty is forever in everyone's favorite bar list. It's a cosy but edgy non-pretentious rock n roll haven with drinks that suit anyone and everyone.
One of Berlin's first gastropubs, Salt n Bone, has been making big waves with its perfect blend of modern food, craft beers and cocktails. Once again the emphasis is on locally sourced, quality ingredients used creatively. Do not miss the rum n coke ribs or home made sausages! These folks love their meat but there is also a veggie burger on the menu.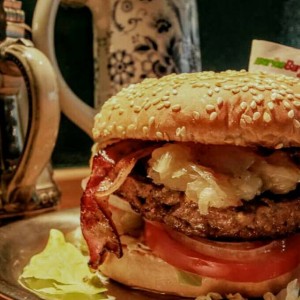 Now, as much as we said we won't enter the debate on Berlins best burger, it is a topic that is often discussed here in the hauptstadt , probably because there are so many ridiculously good burger joints. Whilst in P-berg, MarienBurger is NOT to be missed. Huge variety of toppings and combinations in a small, steamy punk rock shop, where you will get shouted at to grab it whilst it's hot!
https://www.facebook.com/marienburger/?fref=ts
If meat is your thing though, specifically BBQ, then you can't miss Blackbeards Berlin. This place built its concept from scratch, and offers modern BBQ dishes made in their own in house smoke oven.  The meat is slow cooked to perfection and only ever the best locally sourced quality.
We're big fans of Prenzlaur Berg. It seems to have developed a rather wholesome reputation but yes, there are more yoga mums and less graffiti than in other neighborhoods but there are also some damn fine places to grab a drink and/or a bite. Bar culture is kicking and there are also some really good venues and other well kept secrets we look forward to sharing with you in another post! Stay tuned, and keep an eye on our Facebook page for inside tips on upcoming events.