This month, we're creeping around Kreuzberg by night to show you our favourite punk bars. Some say Punk is dead, but it's still alive and kicking in Kreuzberg. You might not see as many mohawks these days but the spirit of Berlins most punk rock neighborhood is still very much intact. So if you want an authentic bar experience, where the music is loud and the shots are spicy then we've got you sorted.
1 – Franken
Situated directly opposite legendary venue SO36, Franken is a firm local favorite. It's often packed to the brim and the music blasting is always the bar teams excellent pick of punk, metal and hardcore. Want to hear an entire Clutch record whilst you knock back the beers? This is the place. They also have one of the best Mexikaner shots in Berlin. If you're on a night out in Kreuzberg, you have to drink one. It's a rule. Franken has some other great rules for visiting Kreuzberg up on their wall as well as an awesome collection of photo's and flyers from bands and shows. They also act as a rowdy live venue from time to time. Never miss the opportunity to see live music in this bar. It's awesome served shaken and stirred off of a skateboard.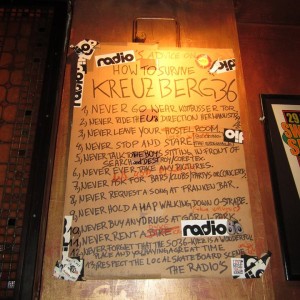 2 – Wowsville
Wowsville gets a ton of punk points for the fact it has a record store. Yes, there's a record store INSIDE this bar.  Expect laidback vibes and a welcoming atmosphere. All sorts of people rub shoulders in this bar and you never quite know what you're going to get but you can expect strong drinks and a LATE night. This place might be perfect for a quiet beer of an evening but it can also quickly turn into a rowdy rock n roll all nighter. With its giant Rat Fink in the window, Wow is the punk rock gem in Ohlauer Strasse. Oh, and the rest of its punk points are from having a pizza place over the road called Villa di Wow, where you can grab excellent pizza and take it back to the bar!
3 – Tiki Heart
The Tiki Heart bar and shop is a must punk rock stop as you stumble along Wiener Strasse, any time of the day. The decked out authentic Tiki interior is more kitsch than you can shake a stick at and the cocktail of the day will always get you fun drunk. Fast. This place has character for miles and is also a great place to stop off and eat. HIGHLY RECOMMENDED if you are attempting to see all these bars in one night! Tiki is also great for breakfast if you end up staying out till morning! You can also pick up any punk supplies you might need from their cool shop downstairs before checking out a show at another legendary live venue just next door, Wild At Heart.
4- Rock N Roll Herberge
This bar is a punk rock diamond and you also have the option to stay the night! A local living room that leads to rooms available at cheap rent, the concept was to create a place where musicians and music lovers could feel at home. And it WORKS. There's also a pool table, not always an easy thing to come across in Berlin, as well as plenty of seating, which can get scarce in a punk rock bar on a busy night. Off the beaten track this is a much loved locals bar.
5 – Trinkteufel.
Trinkteufel translates to "drink devil" and you must have one hell of a demon on your shoulder to head here. No rules, everything goes, just keep buying drinks. If you're going to see a bar fight it will probably be here, but over the weekend at least you won't run out of drinking time, as they don't close. So if you're that one friend in your group who just won't give in and is still mouth washing Pfeffi at 7am you will love it.
The most punk rock thing about all these bars is that they won't tolerate any racist, fascist, homophobic or intolerant behavior of any kind. These bars are full of good people so it's a good idea not to get too out of your tree and remember, respect your bar staff!