You may have noticed that we didn't get our top picks of Januarys events up on the blog, apologies, we have a variety of excuses for that but the best one is that it took us a while to recover from our awesome silvester party tour! When we take you out on NYE in Berlin, we're going to need a bit of time to get back to blogging. 2017 is now off to a flying start here at alternative Berlin HQ, our tours run all year round so the snow and frost don't slow us down, but please come prepared! We really show you a LOT of the city, so when out and about with AB it's important to be dressed appropriately and to wear comfortable footwear. Right, now we've got our Mum bit out of the way, here's our pick of Februarys events here in Germanys oh so awesome capital city.
1 – Hieronymus Bosch: Visions ALIVE – February – June – Alte Münze – Molkenmarkt 2
Okay, so not a new event but not one mentioned here on the Alt B blog before, and it's just been announced that this unique exhibition (initially scheduled to end in January) will extend it's opening until June. We've only heard rave reviews and are glad we've still got the chance to go.
"The opening hall of the exhibition BOSCH: Visions Alive introduces the show with all available information about Bosch's life and career, including least plausible theories. While the multimedia hall features a visual feast of nightmarish but still magnetic images from Bosch's masterpieces. Slippery reptiles, pot-bellied monsters, fish with human legs, barrel-bodied figures, and spidery creatures – this phantasmagoric world of Bosch's never ceases to amaze. Art historian Lev Lyubimov once noted that in Bosch's paintings "one hideous thing is combined with another and, in this hideous combination, suddenly becomes eerily captivating"
Perhaps a good alternative if you get denied entry to Berghain?
https://www.facebook.com/events/1802119433359467/
2. – Berlin Graphic Days #9 – February 3rd-5th -Urban Spree – Revaler Strasse 99
Berlin Graphic Days is always worth checking out. It's an exhibition, market and party rolled into one and held over three days. The Friday night party lasts well into the night, so it's really a big graphic arts based festival. There's live painting, music and DJ's. More than 80 national and international designers, illustrators, silkscreen printers, and other kinds of artist will present and sell their artworks. It's a killer way to see artists in action and is sure to inspire you. There will also be food trucks, so you've got everything you need all in one place. Day tickets are 5€, but you can get a three day ticket for only 8€.
https://www.facebook.com/events/687287101436248/
3. KILL EM ALL CLUB with guest DJ Nicke Andersson – February 4th – Badehaus – Revaler Strasse 99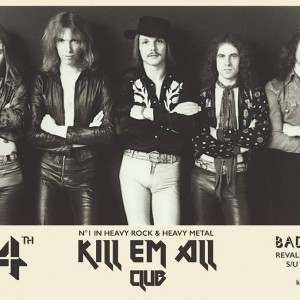 We're big fans of Kill Em All Club. With DJ's who are well known on the international music scene, this party is alternative to its core, if it's your kind of music you can't fail to have fun. Berlin's notorious heavy metal and heavy rock night has also got a new location as well as a special guest DJ. Nicke Andersson of Imperial State Electric, The Hellacopters, Entombed and more will be playing next to Sadonis (LUCIFER, The Oath) and Hellstryker. Expect a lot of leather jackets and tight tight jeans, as well as a killer selection of metal, thrash, doom, rock etc. We managed to blag some free entry for this party and will be giving away two spots on our Facebook page, so make sure you've liked us there, because we're going to be rolling out a lot more competitions this year. Big thanks to Sadonis for the hook up, if you haven't already (where have you been?) make sure you check out her band LUCIFER.
https://www.facebook.com/events/823224047815738/
4. FAVE RAVE – DJ Special – February 11th – Urban Spree – Revaler Strasse 99
It's all happening in the RAW area, back at Urban Spree we've got another alternative dance party, over two floors. A bunch of Berlin's best DJ's from a bunch of its most fun parties are teaming up to get you dancing till dawn. Punk, new wave, disco, it's going to be a mixed bag of music and people. Fave Rave is a good one to keep an eye on, their parties usually include live bands, but by special request this one is DJ's only because they've got such a banging line up! Definitely catch the TECH NOIR team doing their thing.
https://www.facebook.com/events/1237849542975963/
5. – Sabbat Chaos – February 25th – Maze – Mehringdamm 61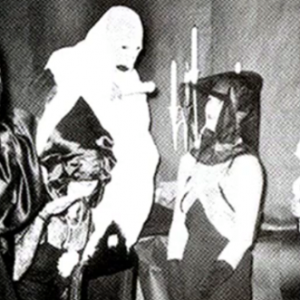 Okay so we've got you more than covered for punk rock and metal shenanigans but what about the Industrial-Experimental-Ritual-Wave-EBM crowd? If these genres are your jam then don't miss Sabbat. There's a movie showing at 9pm about noise and experimental music in Indonesia. Apparently there's a huge extreme and independent music scene in South East Asia, and this documentary gives an extensive overview with numerous bands, artists and speakers, all from Jakarta, Bandung, Bekasi, Yogyakarta, and Tokyo, who freely talk about their own definitions and approaches to noise music. The night then continues with live performances and DJ's
https://www.facebook.com/events/222429188201133/
Our guides are always happy to give you there hints and tips on cool places to go to and fun events that might be happening whilst you're in town. Just one of the reasons taking a tour with a local is a great idea! We also always post anything we think will be fun or interesting to our Facebook page for you too. Make sure you keep an eye out for your chance to win two tickets to the KILL EM ALL CLUB party!