It's not a well-kept secret that Berlin is seriously fun in the summer. That's why tourists come from all over the world to chuck themselves into our awesome urban melting pot, especially when the weather is melting hot. It's one of the best things about taking you out on tour, we get to meet people from all over the world, and from totally different cultural backgrounds. Berlin can be a bit of a mind bender when it comes to deciding what to do during your stay but we're here to help with our pick of events this month, bonus points were assigned if they are outside! We're also going to be posting some special alternative summer guides to Berlin over the coming months, so watch this space!
1-Burgers & Hip Hop – Carnival! – June 3rd – Prince Charles- Prinzenstrasse 85F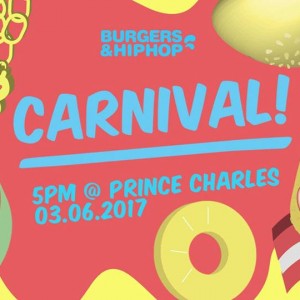 June 2nd-5th is the massive Karneval der Kulturen, with a huge parade on the 4th, there are street parties and open-air events celebrating Berlins cultural diversity happening all over the city. There are WAY too many events for us to mention them all, check out the website at http://www.karneval-berlin.de/en/ for the full program. We're giving a special mention to this grill and grind spectacular though as it's always fun and the DJ line up doesn't disappoint. The line can get long though so if you're down for tropical eats and beats get there early!
https://www.facebook.com/events/437069946657686
2- Apokalipstick – June 16th – Kitkat Club – Köpenickerstrasse 76
Just over a year ago a new concept party spanked it's way onto the Berlin scene, Bad Bruises are the slightly twisted masterminds behind the House Of Red Doors, a night that takes you deeply down the rabbit hole with immersive theatre, performance and fetish. The dynamic-duo behind this night has teamed up with the dark prince of photographing such night activity, Krousky Peutebatre-pictures. Together they are taking over Berlin's most famous sex club for what promises to be a walk on the seriously wild side. With the club divided into districts in an imagined dystopian neo-Berlin and a killer line up of DJ's, you're going to want to get your Mad Max on for this! Check the event for more info, and importantly, the dress code.
https://www.facebook.com/events/193452161174758/
3- BRLO Brewfest 2017- June 16th-17th – Schöneberger Straße 16
We love beer. It's essential Berlin summer fuel and we LOVE BRLO. BRILLO? BRAALO? Oder doch BERLO? These hardworking brewers have established themselves firmly on the craft beer map and we love to support local talent and products. Expect amazing beer (from international breweries but with an emphasis on the thriving up and coming locals) food and live music out at their brew-house, or should we say BRWHOUSE.
https://www.facebook.com/events/300190950417869/
4- Open Air Screening Twin Peaks (Fire Walk With Me) – June 21st– Mobile Kino- Sonnenallee 21
Unless you've literally been living under a rock, you won't have failed to notice that David Lynch has bought the weirdly wonderful cult classic Twin Peaks back to our TV screens…after 25 years. This screening of the dark prequel movie to the wildly popular TV show is well timed and we can't get enough of open-air cinema events this time of year.
https://www.facebook.com/events/553429491494470/
5- Berliner Grill & BBQ Festival 2017 – June 30th-July 2nd– Wartenberger Hof – Veranstaltungshaus-Woldegkerstraße
Berliners LOVE to grill stuff. It's a beloved past time in the summer months and BBQ's can be spotted in the surrealist of places. This is a big festival and promises to cater for all tastes (but we're not sure veggies and vegans would have the BEST time) There will be food trucks, stands, live music and family activities. Worth checking out, what's the wurst that could happen?
https://www.facebook.com/events/1796409630579354
That terrible joke rounds off our blog post for June, but as we said we're going to be stepping up our blogging efforts over the coming months to bring you the best of a sizzling Berlin summer. Stay safe, stay weird and have fun!