Every month we have a tough time here at Alternative Berlin HQ, trying to pick just five events we think you'd be into. There is just so much going on in this terrific city. As we're making our way out of this unreasonably wet July and into what might finally look like the Berlin summer we know and love, there's just too much cool stuff occurring to keep it to five. So this month is a bumper blog post of eight events. You're welcome.
1- Kill Em All – Badehaus Berlin, Revaler Str. 99 – August 5th
Berlin's notorious heavy metal and rock n roll night is back again! It's too hot to wear your leather jacket but rip the sleeves off your favourite t-shirt and prepare for a night of the finest of 70s Heavy Psychedelic, Acid, Black Magick , Hard Rock, Heavy, Proto, Old School Metal. NWOBHM, Doom, Death, Thrash, and Black Metal delivered by the devilish DJs Hellstryker & Sadonis, more genres that you can shake a can of hairspray at!
https://www.facebook.com/events/670275963177915
2- 1st Open Air Street Art Rave – location on request – August 12th
It's no secret that we love street art. We designed an entire tour of the city using it's unique artwork to tell you all about the history and culture here. We even run a workshop where you can have a go yourself and take a piece you've made home with you. This event has been attracting a lot of attention, it's open-air season, and this night, that reportedly started life in LA, promises live street art, food and a DJ crew. You have to hit going on the event and then see if you get a PM.
https://www.facebook.com/events/1174661585973536/
3- Berliner Kebab Festival – Birgit & Bier , Schleusenufer 3 – August 13th
It's testament to Berlin's intense love affair with the döner that this event currently has over 20K interested people. We live on them. It's true. The trusty kebab is always there, when you're drunk, broke, on the run, or all three. Did you know Berlin is the birthplace of the döner kebab!? This is an outdoor festival with multiple vendors, and music. No better place to end up on a Sunday straight from dancing the night away.
https://www.facebook.com/events/114201282437299/
4 – Lenny Kaye at Wowsville – Wowsville Bar – Ohlauer Str. 33 – August 14th
5- Patti Smith And Her Band – Zitadelle – Am Juliusturm 64 – August 15th
We debated about keeping this one to ourselves but that just wouldn't be fair. Sometimes it's Berlin's best-kept secrets that make the place special! Patti Smith is playing here this month. Gloria! The godmother of punk plays with her band on the 15th, but here's the really hot tip. The evening before, Lenny Kaye is DJ'ing at Wowsville in Kreuzberg. This is one of our favourite bars and the addition of a legendary Patti Smith Group member DJ'ing is just icing on the Kreuzberg rock n roll cake. Lenny will be DJ'ing vinyl too, no CD's, no laptops, all wax! For fans of Patti and her band, it's going to be one hell of a week!
https://www.facebook.com/events/1183283885109950/
https://www.facebook.com/events/1839683636321143/
6- Witch Rave – Insel Berlin Treptow, Alt-Treptow 6 – August 18th
One night a year, witches take over a picturesque island. Seriously, it's like something out of a Grimm fairytale as it is! This night will be WILD. There's a huge line up of DJ's, VJ's, live stages, performance art, fire artists, interactive art, there's even tattoos and tarot readings. Seriously Berlin? Sometimes we can't handle how awesome you are! If you're looking for a real Berlin rave experience this will not fail to deliver.
https://www.facebook.com/events/1887004221563736/
7 – Laange Nacht Der Museen – Multiple Locations – August 19th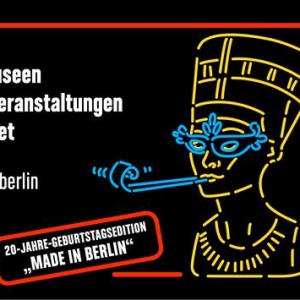 80 museums, 800 events. One ticket. What began with 18 museums back in 1997 has become one of the biggest cultural highlights of the year. This is the Chuck Norris of Berlin museum exploration opportunities. Less that 20€ gets you entry to all the scheduled events at various Berlin museums and institutions, that also includes a hop on hop off shuttle bus between the locations. The entire program and ticket shop can be found at – www.lange-nacht-der-museen.de.
https://www.facebook.com/events/1092819854182988
8 – Berlin Graphic Days #10 – Heeresbäckerei, Köpenicker Straße 16-17- September 1- 3rd
We're sneaking this September event in here as we know we'll be so ruddy busy taking you out on tours in August the next post might be a little late and you do not want to miss this one. This three day, indoor and outdoor event puts the focus firmly on international artists, designers, illustrators and screen-printers, they all get together and display and sell their art. There will be plenty of live painting, food trucks and DJ's, as well as live bands. Hands down Berlin's best celebration of Graphic art.
https://www.facebook.com/events/1915536452037055
And we're done! That's all we've got time for this month, but keep an eye on our Facebook page as we love to share any events there as they are happening, and don't forget to ask your alternative Berlin guide what they're up to. They're a friendly bunch and will be happy to share their hints and tips on what to do and where to go, whatever you're into.