As the clock struck midnight last night and Berlin kicked off what will be a good 72 hours of explosions we had just one thought on our minds, "it must be time for another blog post!" We are proud to present to you our first pick of 2018, a quick run down of happening happenings here in our beloved Berlin during January. We'd also like to take this opportunity to wish you a happy new year. Come what may we'll be taking you out on tours this year, teaching you all about Berlin, and continuing to give you inside tips here on the Alt B blog!
1. Bowie Tribute Berlin 2018- Lido Berlin – January 6th
We know Berlin is brilliant, and reason 45678 is because Berlin LOVES Bowie. Another adopted musician who famously spent three years writing and recording in our great city, we now have a petition going to get a street named after our hero of heroes. We lost the starman from Earth in January 2016 but Berlin remembers and this night at Lido offers an array of live musicians all paying tribute to Bowie followed by a night dedicated to some top vinyl DJ's to bring out the Ziggy Stardust in you too.
https://www.facebook.com/events/126741594710332/permalink/137487533635738/
2. Sober Sensation – Tor Eins, Möckernstraße 43 – January 10th
A lot of people over do it over Christmas and New Year and a lot of them will swear off the drink for a while as a result. A lot of people decide to try for a totally dry January. A lot of people aren't interested in drinking full stop and SOME have gone so far as to create events and parties where there is no drinking, drug taking or smoking allowed full stop. The city does have a large sober community so it makes sense. This particular event is a real jumble of workshops and eating but the core of their offer is an interesting alcohol free bar and a space to mingle with other sober folk.
https://www.facebook.com/events/2040813156139811/
3. The Rock N Roll Wrestling Bash – Festsaal Kreuzberg – January 12th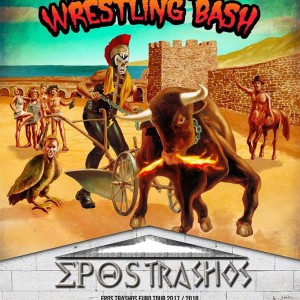 "This outstanding rock'n roll musical is a symbiosis of Mexican wrestling, trash and hard boiled Rock'n'Roll sound". Okay. You have our attention. Just when we thought that we had seen all the weird and wonderful that Berlin has to offer, this one pops up. We've never been to this but the description has us SOLD "The Trash Wrestling League "G.T.W.A." (Galactic Trash Wrestling Alliance) in cooperation with "The Wrestling Bash Orchestra", create a show that you have never seen before. While The Wrestling Bash Orchestra are showing off their incredible musical power on stage, a wild bunch of trash wrestling characters, dressed in their wicked wrestling garb go berserk in the ring in front of the stage". See you in the front row.
https://www.facebook.com/events/1907416292829872/
4. Grand Opening, PICKNWEIGHT Berlin Vintage – Münzstraße 19 – January 13th
We have mixed feelings about vintage clothing shopping in Berlin. It varies so much in price and quality that it can be really frustrating but we do have a few key stores, and we're getting another one! So if granny dresses are up your fashion alley, or you're looking for the perfect authentic leather jacket you'll want to be first in on the action at the opening of this new location. Pick vintage by weight and swan around selecting from over 35,000 items whilst enjoying opening party free drinks and music. We'd recommend getting your elbows ready as we bet Berlin hipsters are going to be standing in line like it was Berghain.
https://www.facebook.com/events/1241617919302784/
5. The House Of Red Doors, 2nd Birthday Party – Salon – Zur wilden Renate – January 25th
The Bad Bruises team have been at home on our blog for two years. We featured their very first party in a post here and have watched with pride as their events have gone from strength to strength and this birthday blowout is going to be exactly the extravaganza they promise. Paying homage to the spirit of 1920's Berlin you can expect devilishly sexy decadence and a damn good time. There is a dress code for these elaborate performance parties and a strict code of conduct so pay close attention to the event information and make sure you book a ticket well in advance.
https://www.facebook.com/events/794864720698364/
Well our new years resolution is to try and get these blog posts out on time! We hope whatever you get up to in Berlin at the beginning of 2018 you're having a blast. We'll be mixing up our tour routes, keeping our groups small and continuing to bring you the best guides in the business so it's set to be another busy one for us! Keep an eye on our Facebook page for other tips for Berlin events as well as special offers.