For most Berlin newbies (and even a few more experiened ex-pats) references to the locality of Lichtenberg ring few bells. Or, if so, perhaps the description "outside of the ring" is enough to bring to mind several negative stereotypes–Neo Nazis and plattenbau's? Nein danke. I think I would rather drink a Spree-water cocktail sir. So it is safe to say I was skeptical of the recent buzz around the growing alternative scene in Lichtenberg–but a collective exhibition featuring some of my favorite Berlin urban artists was enough to make me throw my misgivings to the wind and make the cold, dreary trek out to the unconventional locale.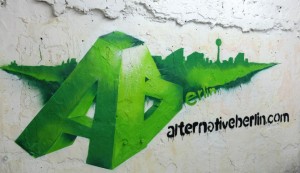 A converted margarine factory set the stage for my first Lichtenberg experience, "From the Streets," the inaugural group show from the newly formed Black Market Collective–a side project of Alternative Berlin housing 131 resident artists and inviting all to come participate–providing space and supplies when needed–everything from wheat paste to bolt cutters.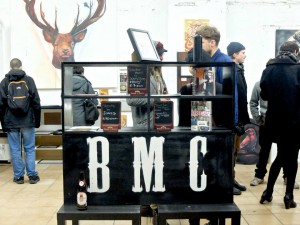 A massive factory floor littered with colorful and enticing artworks greeted me as I stumbled into the gallery–packed to the gills with the usual art crowd–both Germans and ex-pats, familiar and strange faces floated past. One of the most recognizable staples in the Berlin art community and curator of the event, Adrian Buendia from the popular Neukölln gallery, Idrawalot, mingled with the crowd and explained his involvement in the show. "The inspiration for the show was simple: A group show to kick off the space," he said. "It was a good way to open a new space. First off, you get a good mix of art. Second, you get a lot of people coming as well so it helps with the promotion of the space. I had contact with Soon and Jones, two artists that are very active on the streets, and they approached me with an idea of a group show–I told them about this new space and the idea kind of formed from there."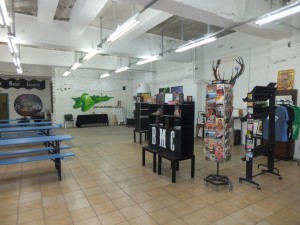 The concept of a group show is not groundbreaking in any sense, but what was instantly apparent to me as I sauntered past the various offerings was the refreshing notion that the show had no underlying theme. From a Rapanth's pug portraits to hilarious illustrations by Haevi that instantly reminded me of Ed, Edd, n Eddy or other such Nickelodeon cartoons from my childhood–each artist presented their work maintaining their individual artist essence–a nice change as many group shows tend to become a forced combination of different perspectives trying to conform to a certain theme. "We are presenting work from artists who have never presented formally in a gallery," explained Buendia, "This was the first show for Soon, Jones and Rapanth so this was a new experience for them as well…We have a mix of artist that not only do work on the streets but actually document it."This documentation of the streets is readily apparent in a stunning series of photographs from Lucky Cat, a native Berliner who has been documenting the street art scene since 2008. One of the most impressive though not part of the exhibition was a large aerial photo of Görlitzer Bahnhof from the perspective of a street artist tagging a building by the extremely prolific bomber and photographer JUST.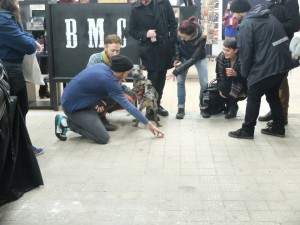 Other standouts included the banksy-esque gas mask prints from emerging Berlin artist, Soon, and a series of illustrations by Boing which reminded me of one of my favorite childhood novels, "Where the Wild Things Are" but depicted with an almost film-noir set up–the artist illuminates only certain highly-detailed objects in the darkness to create an other-worldly vibe. All-in-all, it was a great show.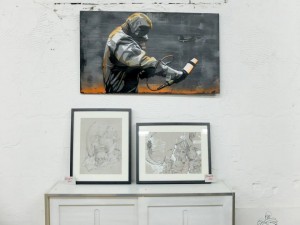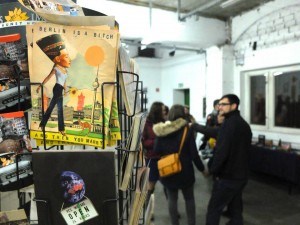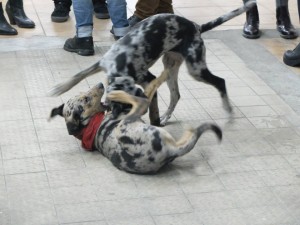 Amiable but still edgy crowd, great location, and wicked art (much of which was quite affordable, even for Berlin standards) But I had to ask, Why Lichtenberg? "The whole area is very vibrant with art so it's nice to be away from the typical art spaces in Berlin." Buendia explained. It's seems to be getting cramped and saturated 'within the ring' so venturing out to other areas is a positive thing.
Not only is the space bigger but you also have some interesting structures all around the neighborhood. It's a whole different vibe."So if you fancy yourself an explorer, or just want to get away from the hustle of Berlin's inner districts and see something new, come and check out Black Market's "From the Streets" which runs until mid January.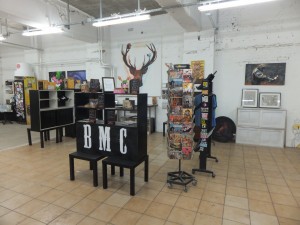 Links:
https://www.facebook.com/pages/Black-Market-Collective/562372410499171
http://www.flickr.com/photos/berlincat/
https://www.facebook.com/pages/SOONStreetart/541112892572625
https://www.facebook.com/pages/Jones/231181093679333?ref=hl