Imagine a restaurant where the dishes are served at no cost (Only donation based), where the food is locally sourced, where all the guests are open and willing to talk about current local and global issues. If you like how that sounds you will love the "Küfa" culture of Berlin. 
Food brings people together. That is the main idea behind Küfas, which stands for  "Küche für Alle" or "Kitchen for all". Küfas are gastronomic, social and political events that allow people to share not only food but, most importantly, ideas. These sharing sessions are rooted in the Berlin left scene of the 80s and also strongly connected to the squatting culture of the city. These events are organized regularly by collectives and are hosted in communal yards, cafes or pubs.
No need to worry about finances. Küfas are most of the time on a donation basis so no need to listen to your pocket, just contribute with whatever your heart tells you. This is Berlin so… be ready for a "only cash" event.
What to expect about the menu? It will probably be vegetarian and sourced locally using food that is too good to end up in the trash. The food is prepared by volunteers from the collectives, and if you like you are also able to join the cooking crew.
Food is only an excuse. Probably by the end of your meal you will already be talking to the people serving the food or the ones sitting next to you. That is what Küfas are for.
.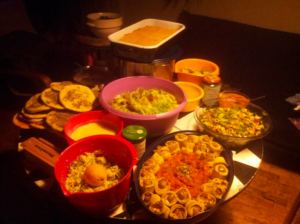 Some Küfas happening regularly:
Queer feminist küfa (kitchen for all)