Food, glorious food! One of the greatest things about being in Berlin is the incredible choice of places to eat out. Food experiences range all the way from kebabs and currywurst (fast, cheap and eaten on the street) to lavish four course affairs in vintage ballrooms. Foodies are more than happy in Berlin (veggie and vegan eaters are always amazed by the range of choices for them). On an alternative Berlin tour we offer unique and authentic experiences, and so do our pick of Berlin's alternative eateries.
Bite Club – Eichenstrasse 4
Bite club is a food lover's party, complete with DJ's and drinks. The seasonal Bite Club parties take Berlin's passion for authentic street food and shine a light on the very best. Award winning food trucks and stands offer freshly prepared fare right on the Spree, with an incredible view. There's an awesome range of things to try, from BBQ to ice cream sandwiches as well as a Singleton whiskey bar. People get full of delicious food and then dance the night away. There are no tickets or entry fees, just turn up and try and decide what to have first! The next event is August 19th.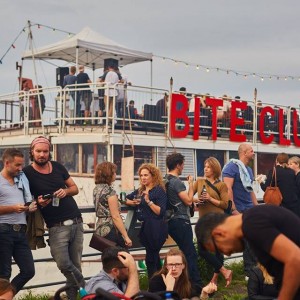 https://www.facebook.com/events/161274794280422/
Nocti Vagus – Dunkelrestaurant & Dunkelbühne NOCTI VAGUS
2nd inner courtyard of the historical "Backfabrik"
Saarbrücker Str. 36-38
Okay, we admit, we haven't tried this one but we will! The idea is simple- dinner, in the dark. Not just moody lighting. Total darkness. You choose your meal before being led to the restaurant. The whole team in the restaurant is blind or severely visually impaired, they are your expert guides and serve you in the pitch black. You can enjoy several courses of award winning food with your senses heightened by the darkness. This is a really popular destination so you need to make a reservation.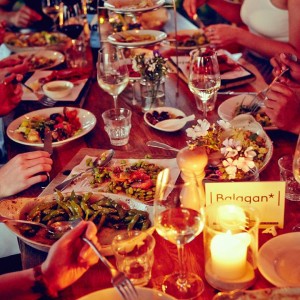 Fernsehturm Berlin – Alexanderplatz (you can't miss it)
Yup, Berlin's TV tower isn't just an iconic structure, it's got a restaurant in the sphere! The highest eatery in Berlin, this isn't for those who fear heights. Constructed in 1969 in the former GDR the restaurant actually revolves so you can enjoy a 360 degree view of the city whilst you dine. It takes one hour to revolve entirely, and in the meantime you can enjoy locally sourced food. You do need to buy a ticket to access the restaurant.
https://tv-turm.de/en/homepage/
Neni/ Monkey Bar – Budapester Str 40
Another one that might not be great if you have a fear of heights but the view, and experience is exceptional. The idea and concept of restaurant NENI Berlin is that everyone is able to try a little of everything, and pots and pans are taken from the kitchen and placed directly on the table without any airs or graces. The floor to ceiling glass provides views over the city, and the zoo, which is directly below. This is how the Monkey Bar, also situated in the top of the 25hour hotel got it's name. Again, you will need to book in advance.
https://www.facebook.com/NENI-Berlin-Monkey-Bar-556624871086083/?fref=ts
That's just a few of the more unusual eating experiences we thought of, as always with Berlin, there is plenty more to explore and if food is your thing we seriously recommend taking our taste Berlin tour. We bring you a unique blend of the traditional and modern on this informative and very tasty tour. Visit some of Berlin's most interesting and innovative places to sample original and authentic flavours of both food and drink. This tour gives you the chance to try some delicious hand crafted beers, made by small local brewers as well as homemade and innovative local dishes at a variety of locations. All the information you need to get tasting is on our website at www.alternativeberlin.com